Druridge Bay mine plan rejection goes to High Court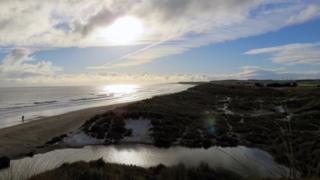 A government decision to block plans for an opencast coal mine close to a Northumberland beach is being challenged in the High Court.
Banks Mining's proposed scheme at a site near Druridge Bay was rejected by then-Communities Secretary Sajid Javid in March.
He said it would have a negative impact on the landscape and tourism industry, as well as adding to climate change.
Banks has asked Mr Justice Ouseley to overturn the "irrational" decision.
The project would see three million tonnes of coal, sandstone and fireclay extracted from the 325-hectare site over seven years and was approved by Northumberland County Council in 2016.
A public inquiry followed with a government planning inspector recommending consent be granted before Mr Javid intervened.
'Erroneous' ruling
The company argues he misinterpreted national planning policies and gave too much weight to concerns about global warming.
Representing Banks, Nathalie Lieven QC told the court it was "plainly wrong" to say the mine would have any impact on climate change.
She said Mr Javid's "erroneous" ruling flew in the face of a "clear line" of previous planning decisions.
The environmental impact of the burning of fuel, such as gas or oil, by end users had up to now been "discounted" by planners in mining cases, she told the court.
In his March decision, Mr Javid said the benefits of coal extraction and local employment deserved "great weight" but added the project would have "a considerable adverse impact on the landscape character" of the area.
He said he had also taken into account "the very considerable negative impact" of greenhouse gases and climate change.
David Elvin QC is defending Mr Javid's decision at the hearing.
Lawyers representing Friends of the Earth and the Save Druridge campaign group are also in court.
The hearing is due to last up to two days with Mr Justice Ouseley expected to reserve his decision until a later date.