Great Exhibition of the North visitor numbers questioned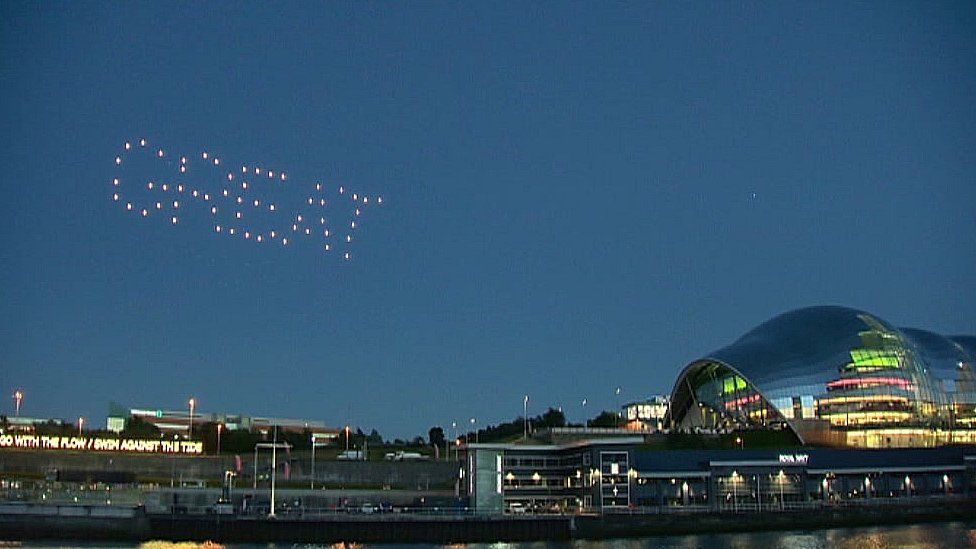 The way visitor numbers to the Great Exhibition of the North have been calculated has been questioned.
Organisers suggested 75% of four million visitors to Newcastle and Gateshead over the summer "engaged" with the 80-day festival.
But it has emerged some people surveyed were spoken to when already inside or directly outside venues.
Exhibition chairman Sir Gary Verity and the government said they were happy with the figures.
The opening night line-up included Newcastle band Maximo Park, Turner Prize-winning artist Lubaina Himid and groundbreaking steam locomotive Stephenson's Rocket, which was made in Newcastle in the 1820s.
Keith Burge, of Newcastle-based ERS Economic Consultants, said: "If you look at that methodology used, it's not unlike approaching a portly chap in a black and white shirt outside St James' Park when Newcastle are playing at home and asking him if he's going to the match.
"The probability is he is, and then suggesting that everybody in Newcastle on Saturday afternoon is going to the match.
"If you're going to extrapolate from a sample, it has to be representative of the population as a whole."
John Tomaney, professor of urban and regional planning at University College London, said: "In terms of the methodology by which these figures were produced, I'd like to see a lot more evidence as to the rigour of the process."
Opposition councillors on Newcastle City Council have also called for an investigation into how organisers used public funds.
Liberal Democrat leader Anita Lower said: " It's not been easy to see where the money has gone and what the long term impact and legacy for Tyneside is.
"Now it has come to an end, we need to establish what it has achieved. We need greater scrutiny of whether the Great Exhibition has been a great success or a great disappointment."
A ComRes poll of 4,050 adults from England, Scotland and Wales, conducted for Inside Out, indicated that overall 23% had heard of the exhibition, but only 2% had visited.
Of those questioned in the North East, 49% had heard about the event, but just 13% said they actually visited.
Only 1% of those in the Yorkshire, Humber and North West regions who were asked if they visited the exhibition said they had.
Exhibition chairman Sir Gary Verity said: "I have asked questions surrounding those statistics and I'm happy that what I've been told stacks up."
Arts minister Michael Ellis said he was "confident" of the visitor figures.
He added: "We had opening and closing ceremonies that were full to the rafters.
"I think it was great. We had four million visitors, I think that speaks for itself."
The ComRes poll was carried out online between 21 and 25 September.
You can see more on this story on Inside Out on BBC One in the North East and Cumbria at 19:30 GMT on Monday 29 October or afterwards on the iPlayer.