Terminally ill cancer patient raising money for her funeral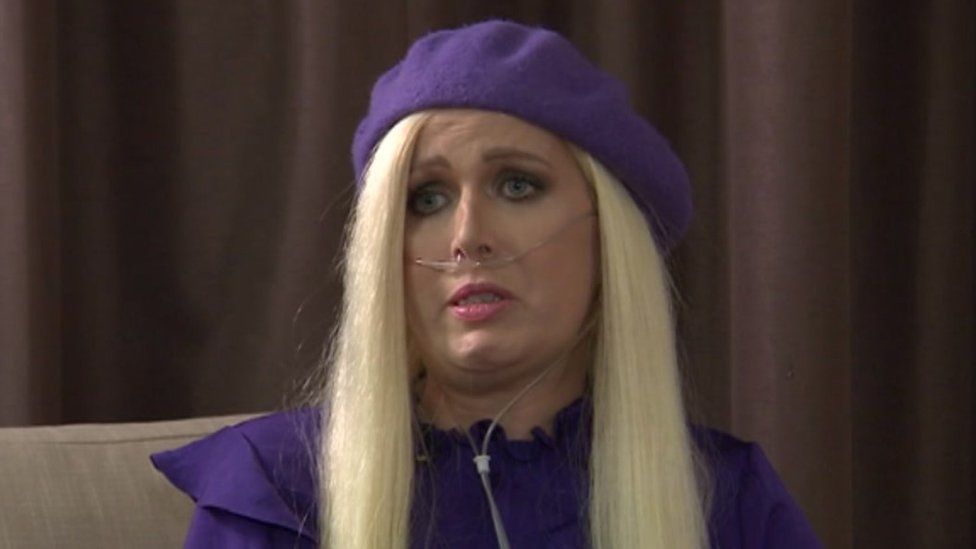 A woman who has been told she has weeks to live is raising money to pay for her funeral.
Shirley Hellyar, from Glasgow, thought she had beaten blood cancer and travelled to Newcastle to celebrate her 40th birthday this month.
But while visiting friends she suffered chest pains and a scan revealed her condition was terminal.
Miss Hellyar, who is in a Chris Pine up and coming film, is also hoping to live long enough to see herself onscreen.
The film, Outlaw King, in which she has a small part as a villager is released on 9 November on Netflix.
Miss Hellyar was diagnosed with lymphoblastic lymphoma in 2017 after a tumour was detected in her lung she and had to spend months in hospital.
She said by early September this year the tumour had shrunk and she was well enough to travel 200 miles to Newcastle where she lived for years and used to work as a sexual health worker.
Miss Hellyar is in St Oswald's Hospice in Newcastle, where she wants to remain and be close to friends.
She said: "I feel blessed that I'm here although it is not the desired outcome.
"I need my family around me and don't want there to be any financial stress. The kindness people have shown is unbelievable - it has reinstated my faith in humanity.
"Nobody should be planning their own funeral but I want to take the pressure off and make it more bearable for my parents. Coming to the hospice is like a weight's been lifted off my shoulders.
"Although things aren't good people have been so kind here and I feel like this is where I'm supposed to be."
Ms Hellyar's cancer began as a sore throat and she thought that she had a virus, but when she did not get better she was referred to hospital for a scan.
She added: "It started off with a sore throat and me not feeling right and I kept being told it was just a virus.
"When I came down from Glasgow I thought I'd had the all-clear and was excited to be spending my birthday with friends as I'd spent seven months in hospital.
"I want to spend my time with people I love - everybody gets caught up in rushing around and not enjoying their lives.
"I am hoping to get out with the time I've got left and get photos on days out and have nice lunches.
"I just hope when I'm gone I'm remembered as having made a difference and was a kind and compassionate person."
Related Internet Links
The BBC is not responsible for the content of external sites.