Ammo found at planning row killer Albert Dryden's home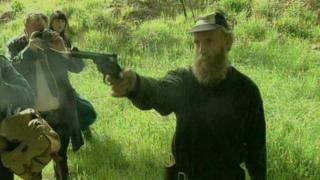 The discovery of ammunition in the home of a man who killed a planning officer on camera 27 years ago has sparked calls for an investigation.
Albert Dryden was jailed for life for shooting Harry Collinson in 1991. Dryden died aged 78 in September.
Relatives clearing his ex-home in County Durham found ammunition, which had to be disposed of by army experts.
Durham Police said weapons were removed in 1991, and it was not clear how long the recent finds had been there.
Councillor Alex Watson said it was "unbelievable" it was not found during previous police searches of the Consett house.
Dryden gunned down the planning officer who had come to serve a demolition notice on a bungalow he was building illegally.
The shooting was carried out in front of TV cameras. A police officer and TV reporter were also injured.
Dryden was sentenced to life imprisonment, but released in 2017 after suffering a stroke. He died in a nursing home.
His former home remained empty for 27 years, before relatives began clearing it out following his death.
What officers described as "historical ammunition" was handed in to the local police station, sparking an evacuation and an army bomb squad was sent to the property.
Neighbour Kevin McCall said: "I saw them carrying out what looked like shells, they were big.
"If the police had searched you'd think they'd have found them first time round."
'Quite staggering'
Councillor Alex Watson, who had been a friend of Dryden, said: "It's unbelievable it's happened now - it should have been before or after [the shooting], because this was a terrace where people lived.
"You had to give some trust that police had done their job thoroughly, but clearly they hadn't, and that's disturbing, quite staggering really considering the reputation that Albert had."
A spokesman for Durham Constabulary said: "We believe that the house was searched in 1991 and a quantity of weapons were removed at that time.
"However, further material appears to have come to light during a recent house clearance which was handed in at Consett Police Station earlier this week, including a number of components of ammunition.
"A search of the house was carried out by police and no further viable firearms or explosives were found. All material has now been safely disposed of.
"It remains unclear how long the material recovered from the house had been stored at that address.
"Given advances in the use of technology, we are confident that policing practice and record keeping have improved since 1991".