South Shields police shooting: Officer 'acted in self defence'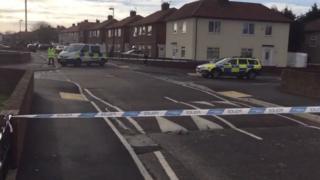 A police officer who shot a man who was holding an air pistol was acting in self defence, an inquest has heard.
He was also protecting a colleague and members of the public, believing the man was holding a handgun, it heard.
James Wilson, 24, was hit by a plastic bullet and then a round from a police rifle after refusing to put down the weapon in South Shields in March 2016.
PC Perry Lisle, now retired, told the jury he feared if he did not act someone could be injured or killed.
Never in his 26-year police career had a weapon been pointed directly at him, he said.
Mr Wilson died in March 2016, three days after a stand-off with two armed officers in South Shields.
He was shot after repeatedly failing to comply with orders to drop his weapon. which was later identified as an air pistol.
The inquest heard he had pointed the weapon at the Northumbria Police officers once and appeared to be raising his hand again when he was shot.
Asked whether he would have done anything differently, PC Lisle said he would not.
The officer who fired the plastic bullet, PC Shield, told the inquest he agreed the actions that night were proportionate to the level of risk.
The officers said consideration was given to James Wilson's emotional and mental state at the time of the incident but it was not possible to negotiate with him because he was posing an immediate threat.
The inquest continues.