Druridge Bay mine plan back on track after court ruling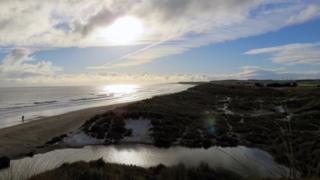 Controversial plans for an opencast coal mine in Northumberland are back on track after a ruling in the High Court.
Banks Mining's proposed scheme at a site near Druridge Bay was approved by the county council, and after a public inquiry a government planning inspector also recommended consent.
However, in March it was rejected by the then-communities secretary.
This has now been overturned, and it will go to the secretary of state's office for further consideration.
The company said the project would see three million tonnes of coal, sandstone and fireclay extracted from the 325-hectare site over seven years, creating at least 100 jobs and bringing £87m into the local economy.
In March Sajid Javid, who was communities secretary at the time, said the benefits of coal extraction and local employment deserved "great weight" but the project would have "a considerable adverse impact on the landscape character" of the area.
'Significantly inadequate'
Banks Mining branded the decision "irrational" and lodged a High Court challenge.
Following a two-day hearing, Mr Justice Ouseley found in the company's favour, describing the reasoning behind Mr Javid's decision to reject the planning inspector's findings as "significantly inadequate".
Gavin Styles, managing director of Banks Mining, said: "The scheme has been examined in extreme detail by both a local authority and an independent planning inspector, and was found to be a sound scheme that should be allowed to go ahead.
"We would therefore urge [current Communities Secretary James Brokenshire] to give us permission to progress work as soon as possible."
Friends of the Earth, which along with local pressure group Save Druridge has campaigned against the mine, described the decision as "disappointing".
A spokesman said: "The original decision to say no to the Druridge Bay opencast coal mine on climate grounds was the right decision for the right reason.
"Since then, the case for ending our dependence on fossil fuels has only grown stronger, with the world's leading climate scientists warning that we need to act fast to avoid climate chaos.
"James Brokenshire must take heed of the science and again reject this destructive proposal."