Sweets removed after drugs officers raid South Moor shop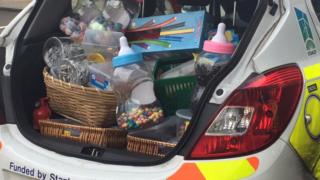 A sweet shop has been shut down and its entire stock of confectionery seized in a drugs raid.
Acting on a tip-off, officers and sniffer dogs raided the Convenience Store in South Moor, near Stanley.
White powder, thought to be amphetamine, was taken and dozens jars of sweets removed from the shop, which is near a nursery, Durham police said.
A 50-year-old woman and a man, 56, have been arrested on suspicion of being involved in drug dealing.
A spokesman for the force said: "Families with children were regular customers at the premises, which is right in the heart of the village and straight opposite a nursery.
"We have confiscated the contents of the shop because we couldn't take the risk that some of those loose sweets might become contaminated with a potentially dangerous substance.
"Hopefully, the operation will also have left local drug dealers with a sour taste in their mouths."