Artists wanted for Elmer's Great North Parade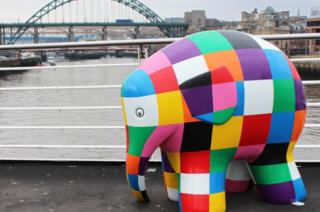 An appeal has been launched for artists to decorate dozens of elephant sculptures that will form a charity trail.
Elmer's Great North Parade will see 70 hand-painted sculptures of the children's character placed across Tyne and Wear in aid of St Oswald's Hospice.
Starting in August 2019, the 10-week event follows 2016's Great North Snowdogs campaign.
A subsequent auction of those models raised £367,000.
The Elmer models will also be sold off, next November, to raise money for the hospice, which provides care for youngsters and adults with incurable conditions and support for their families.
Project curator Victoria Maddison said it was a "unique opportunity for artists to see their work being enjoyed and viewed by hundreds of thousands of people".
Submissions must be made online by 14 February 2019.
More than 100 smaller Elmers, designed and decorated by North East schoolchildren, youth groups and organisations, will also be part of the public trail.
First hitting the shelves in 1989, the Elmer books have sold more than eight million copies worldwide and been translated into more than 50 languages.
The character's patchwork colours mark him apart from the rest of the herd.