South Shields police shooting: James Wilson 'lawfully killed'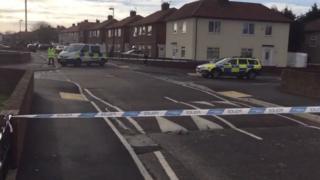 A man shot dead by police who believed he was carrying a firearm was lawfully killed, an inquest jury has concluded.
James Wilson, 24, was hit by a plastic bullet and then a round from a police rifle after refusing to put down an air rifle in South Shields in March 2016.
An inquest in Newcastle heard that Northumbria Police firearms officer PC Perry Lisle believed he and others were at risk and "acted in self-defence".
Mr Wilson died in hospital three days after the stand-off.
The inquest heard that Mr Wilson, from Candish Street, South Shields, had been warned seven times to lower the weapon before police took action.
PC Lisle, who has since retired, told the jury he feared if he did not act someone could be injured or killed.
He said that never in his 26-year police career had a weapon been pointed directly at him.
Earlier, Mr Wilson's father Carl told Newcastle coroner Karen Dilks he thought his son wanted to "use the police to commit suicide" when he confronted officers in Frenchman's Way on 29 March 2016.
The inquest also heard that Mr Wilson had shared 48 bottles of beer with a friend in the hours leading up to his death.
An investigation into the shooting by the Independent Office for Police Conduct found that the response of Northumbria Police was appropriate, the inquest was told.
In a statement the IOPC said: "We found Mr Wilson had made a number of calls to Northumbria Police from the early hours of 29 March and was considered to be emotionally and mentally distressed.
"He made threats to police, confirming that he was in possession of 'a gun' and would shoot any police officers who approached him.
"Our thoughts remain with Mr Wilson's family and friends and all those affected by this tragic incident."
After the hearing, Mr Wilson's mother Tracy Todd said: "All I've got to say is that I was right all along, my son didn't commit suicide, and that's it."