Sunderland Royal Hospital probes boy's death day after release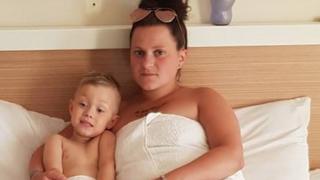 A mother has said her life has been "destroyed" by the death of her four-year-old son a day after he was released from hospital.
Katrina Farnell took Sheldon to Sunderland Royal Hospital on Friday, believing he had a viral infection.
He was discharged on Sunday, but got worse and died of what the family believes was sepsis on Monday after Miss Farnell took him back to hospital.
City Hospitals Sunderland Trust said an investigation was being carried out.
Miss Farnell, of Houghton-le-Spring, said: "I lived for him, I became a better person for him. Now he's gone my heart's ripped out.
"It is the worst thing a mother could do - go through a thing like this."
The 23-year-old said her son was discharged from hospital before the results of blood tests came back.
When they returned home he complained of feeling dizzy and sick, and was unable to stand.
She said she took him back to hospital and the doctors were unable to stabilise him.
Miss Farnell said: "The doctors told me that Sheldon had had a cardiac arrest, then they said he's gone, he's dead. I held him, I got my last cuddle."
Sepsis is caused when the body's immune system overreacts to infection. According to the NHS there are at least 46,000 deaths resulting from it in the UK every year.
The hospital trust's medical director Ian Martin said: "We offer our heartfelt condolences to Sheldon's family for their tragic loss and are offering all the support we can to his loved ones at this very sad and difficult time.
"Due to patient confidentiality, we are unable to discuss details of Sheldon's treatment, however we can confirm that we have already started our robust internal review process so that we can fully understand the circumstances around his care.
"As with any unexpected death, the coroner will also be undertaking a full and thorough investigation and we are offering our full co-operation and support of this process.
"We will continue to keep Sheldon's family fully updated and are unable to comment any further at this time."