Record number of seal pups born at Farne Islands colony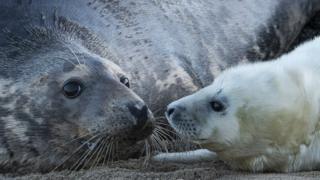 The number of grey seal pups born at one of England's largest colonies has hit a record high.
Surveys by rangers have shown the number of youngsters born on the Farne Islands off Northumberland has risen by almost 50% in five years.
Some 2,602 Atlantic grey seal pups were counted in the latest breeding season on the islands, up from 1,740 in 2014.
The National Trust said a good supply of food and fewer predators were behind the rise in numbers.
Atlantic grey seals are protected mammals, with global numbers thought to be around 300,000 - half of which live in British and Irish waters.
Rangers who live on the Farne Islands for nine months a year survey the seals during the breeding season, which runs from late September to December, with the majority of pups born in October and November.
You may also like:
Once the breeding season starts, pups are sprayed with a harmless vegetable dye to indicate the week they were born, with a rotation of three or four colours helping rangers keep track of numbers.
Drones have also been used to help monitor pups for the first time.
Grey seal facts:
Grey seals are Britain's largest living carnivores
Britain has 36% of the world population of grey seals around its shores
Pups weigh 14kg (30.8lb) at birth but quickly gain the blubber they need because their mother's milk contains 60% fat
Source: BBC Nature
Ranger Thomas Hendry said: "A lack of predators and a plentiful supply of sand eels, which make up about 70% of the seals' diet, has helped bolster our seal pup numbers.
"This new record for the grey seal colony is certainly a milestone and could be good news for the health of our seas around the islands."
"Over the next few years we will monitor the effect of a growing seal population and to manage the island habitats accordingly," he added.