Nissan: Sunderland plant spends £52m to build new Qashqai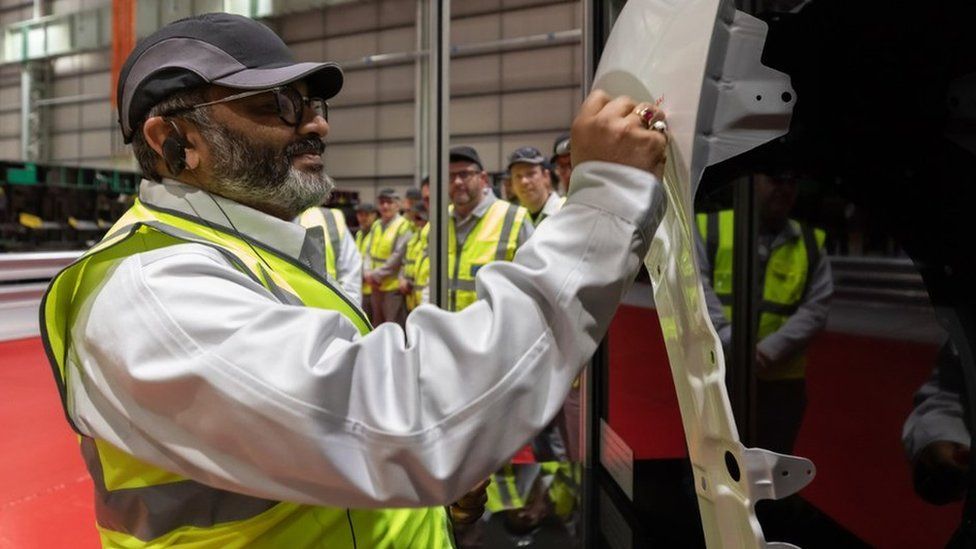 More than £50m has been invested in the Nissan plant in Sunderland as the firm gears up to build the new Qashqai.
The Japanese car-manufacturer said its new press, which weighs over 2,000 tonnes and can exert a pressure of 5,000 tonnes, forms part of its £400m investment in the plant.
The Qashqai, which came out in 2006, is the plant's most successful car.
The press took 18 months to install.
Nissan's chief operating officer Ashwani Gupta, said: "When the first Nissan Qashqai rolled off the line in Sunderland in 2006 it created the crossover segment.
"Designed, engineered and made in the UK, and more than three million vehicles later, it remains the benchmark, just as our team in the UK continues to set the standard for productivity and quality."
Nissan's Sunderland plant opened in 1986 and employs 7,000 people.
The new press is also being used in the production of the Juke model.
The firm has not yet confirmed when the new Qashqai model will be produced.
Nissan's European chairman Gianluca de Ficchy has repeatedly warned that the company's entire European business could be at risk if the UK and the EU don't do a deal that safeguards frictionless, tariff-free trade across the channel. He repeated the point just last week.
His argument is that because around 70% of the cars built in Sunderland are exported to the EU, the introduction of 10% tariffs (under WTO trading terms) could undermine the company's business model in the region.
Despite that, it's clear Nissan is pressing ahead with substantial new investments at the plant and has every intention to build the new Qashqai there. So has the company been crying wolf? Are Mr de Ficchy's public statements just empty threats?
Company insiders insist that's not the case. There's a difference, they say, between current investments that have already been in the pipeline for years and the long-term strategy for the business.
And just because its immediate future seems secure, there's no guarantee the plant will be awarded more business when its current contracts, including the new Qashqai, come to an end.