Coronavirus: New restrictions in north-east England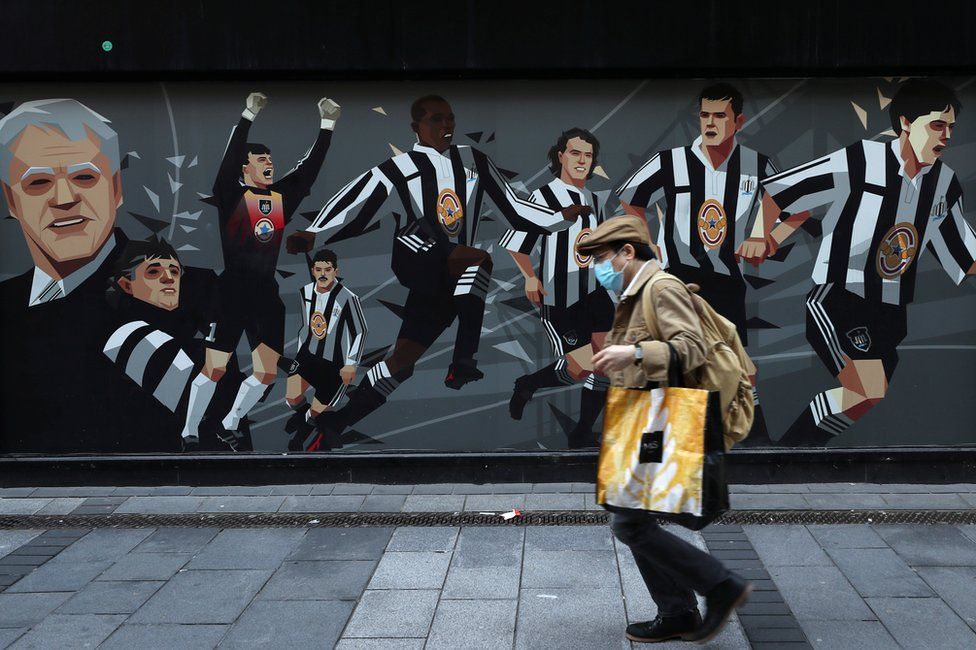 Almost two million people in north-east England will be banned from meeting other households as Covid cases rise.
Health Secretary Matt Hancock announced the temporary restrictions will be in place from midnight due to "concerning rates of infection".
The rules affect Newcastle, Gateshead, Sunderland, Northumberland, South Tyneside, North Tyneside and the County Durham council area.
"The data says that we must act now," Mr Hancock told the House of Commons.
He said Sunderland currently had an infection rate of 103 cases per 100,000 people. In South Tyneside and Gateshead the latest published rates were 93.4 and 83.6 respectively.
The government was taking "swift action" after concerns were raised by the councils covering the affected areas, he said.
The restrictions, which will be reviewed weekly, also mean restaurants will only be able to offer table service and restaurants, bars and pubs will have to shut between 22:00 BST and 05:00.
Newcastle City Council leader Nick Forbes said the temporary measures would hopefully "head off the potential of any further damaging full lockdown across the region".
"The evidence we've found from local testing is that it's spreading in three main areas - in pubs, in people's homes and in grassroots sports," he said.
However, Mr Forbes said, as of 17:00 BST, the regulations still had not been published despite being announced at 11:30 and coming into effect at midnight.
"The longer this goes on the greater the info vacuum and the more alarmed people are getting. We need clarity, now," he said.
Discussions between the council and the government were still continuing on Thursday over whether to exclude grandparents helping with childcare from the restrictions.
Mr Forbes tweeted the authority had "specifically" asked for this to be allowed and was "hoping" for government confirmation.
The new measures include:
Meeting people outside your household or support bubble in private homes and gardens is banned (exemptions include attending a birth, visiting someone who is dying, work, education, registered childcare, emergency or care, moving house or child contact arrangements).
People are advised not to socialise outside their household in public venues.
Residents should only use public transport for essential purposes, such as going to school or work.
Pubs, restaurants, cafes to be table service only and all leisure venues must shut at 22:00.
Holidays are permitted but only with members of your household or support bubble.
People should not spectate at any grassroots sport or play sport in the restricted areas.
Schools, colleges and universities remain open.
Travel outside the area is permitted but visiting another home or garden is not.
Care homes are closed to non-essential visitors except in end-of-life circumstances.
There are no local changes to funerals, weddings or religious ceremonies.
Mr Forbes said council leaders had requested additional funding for policing to enforce the measures, as well as additional local testing facilities.
County Durham's director of public health Amanda Healy said: "If we do want to be able to continue to go to work to schools, to keep in contact with relatives but stop an increase in the cases we have seen, we are really urging people to adhere to the guidance coming out today."
By Nick Triggle, BBC News Health Correspondent
Making sense of positive cases is fraught with difficulties. In recent weeks, the North East has seen a marked increase in the amount of testing being done.
That in itself will lead to an increase in infection being detected. The more you look for it, the more you are likely to find.
But the rise in the North East is more than just that.
We can see from the community testing done in the early part of September the proportion of tests returning a positive result has also gone up.
But that is the case for much of the country.
What marks the North East out is the fact positive cases in hospitals have also started rising.
That is the case in the North West and Yorkshire and Humber too and helps to explain why restrictions have been targeted in these places.
Gateshead Council leader Martin Gannon said: "Nobody welcomes these things but I would think the vast majority of people recognise these are extremely difficult times and we all need to act and pull together."
Mr Hancock said he knew these "decisions have a real impact on families, on businesses and on local communities and I can tell everyone affected that we do not take these decisions lightly".
Shadow Health Secretary Jon Ashworth called for more testing capacity to be available in areas where there were tightened restrictions.
He said it was urgent the government "fixes testing, fixes tracing" or we face a "very bleak winter indeed".
Small businesses broadly welcomed the approach but called for more support to adapt to the new measures.
Simon Hanson, North East development manager for the Federation of Small Businesses, said it was "absolutely critical" that small and micro businesses were given grant support quickly to help them adapt and provide cashflow.
However, the owner of The Patricia restaurant in Jesmond described the new measures as a "bit of a nightmare".
Nick Greaves said it would lose one of its later sittings if it shut at 22:00 and the virus "is still as dangerous before 10pm as it is afterwards".
"We have come so far to get back on our feet and now we are back down in this saga again," he said.
"It could even be a little bit dangerous with people going to the pub, necking as much as they can and then they end up drunk and are like 'let's go to a house or something'."
By Daniel Wainwright, BBC England data unit
While the rates of new coronavirus infections in the affected parts of the north-east England are lower than those in places like Bolton, this is not a simply a case of rankings.
Rates of new infections in areas like South Tyneside and Sunderland are at their highest since spring and have been climbing for the past few weeks.
Other areas affected by the new restrictions, such as Northumberland, have much lower rates per 100,000 population but it is clear that infections have been climbing there too.
Northumberland's rate of 29.8 cases per 100,000 in the week to 14 September is lower than some of the other areas now affected by restrictions.
However, when the government imposed tighter restrictions on Greater Manchester, the east of Lancashire and West Yorkshire in the summer, areas with lower rates were also included.
At the time, Wigan in Greater Manchester and Rossendale in Lancashire were not seeing the same rates of infection as their neighbouring boroughs and districts, but Public Health England included them because they were "part of an area in which overall infection rates are high, with household transmission a key pathway".
It will be the same for Northumberland, with people travelling to and from work in other areas of the North East.