Covid-19: More than 1,800 North East students test positive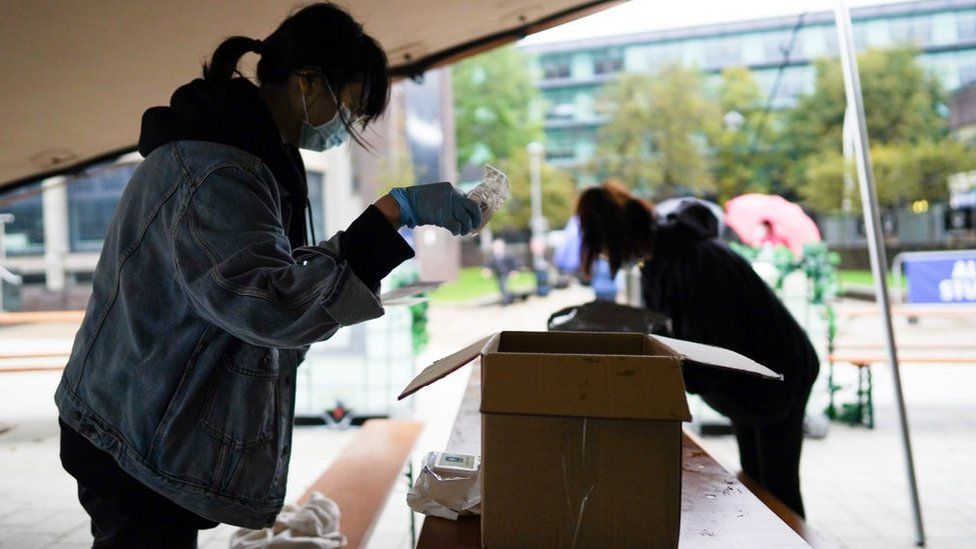 More than 1,800 students in the North East have tested positive for Covid-19, according to new figures.
Newcastle University said 1,003 students and 12 members of staff were confirmed to have been infected with coronavirus in the past week, compared with 94 last Friday.
There were 619 cases in the last week at Northumbria University, following 560 the week before.
Durham University confirmed 219 cases in students in the past week.
Newcastle University said the "overwhelming majority" of cases had arisen from social and residential settings and it was "confident" appropriate measures were in place to protect everyone on campus.
Students who are isolating or in quarantine receive a help package including access to mental health support, food vouchers and help with laundry, it added.
Northumbria University said it was "continuing to make extensive efforts" to provide support for its self-isolating students with online concierge services or food parcels delivered by staff and the students' union.
The switch will be reviewed on 23 October.
'I had to eat noodles in my room'
First year student Emily Koscik-Jones, who is studying fashion at Northumbria University, said she had just finished her quarantine after testing positive for the virus.
Writing in her blog, she said she resorted to eating pots of noodles in her bedroom to avoid the kitchen, as it was so difficult to self-isolate in accommodation where students were meeting.
She called the approach to universities reopening as "naivety at its finest".
"It outraged me that people seem to think students live in their own little bubble completely detached from civilisation - with massively reduced lesson time and more free time to socialise this has never been more untrue," she wrote.
"Shutting pubs at 10pm is completely useless when there is not sufficient measures in accommodation where students immediately head for to socialise in a much closer proximity. What makes this even more shambolic is how difficult it is to get a test which is an issue that should have been addressed prior to sending students back."
Meanwhile, Newcastle university's vice-chancellor, Professor Chris Day, has raised concerned over the behaviour of Covid marshals enforcing restrictions, who he said were reported to have "burst in" on students.
Prof Day, speaking at a civic meeting attended by Newcastle City Council and Northumbria Police, said he wanted "reassurance that they are not lone wolves out there doing what they like, which is the impression that I am getting from some of our students", according to the Local Democracy Reporting Service.
Ch Supt Ged Noble confirmed councils assisted police in providing accredited marshals and they were initially deployed to areas of high student population, but were now going to be deployed alongside neighbourhood officers.
"That is not necessarily a light touch, where enforcement action is required we will take it," he said.
"But we are working very closely with the marshals, who to be fair are doing a very challenging role and it is a new role for them as well."
At Durham University students living at two of its 17 colleges have been asked to remain on the campus and to only attend activities managed by the university for the next seven days.
It comes after about 50 of the 300 students living at St Mary's College and about 50 of the 500 at Collingwood College tested positive.
As previously reported, the University of Sunderland said the total figure of confirmed cases, as of 7 October, was 102 students and nine staff.
Related Internet Links
The BBC is not responsible for the content of external sites.