Tyne and Wear Metro fares to rise in line with inflation from April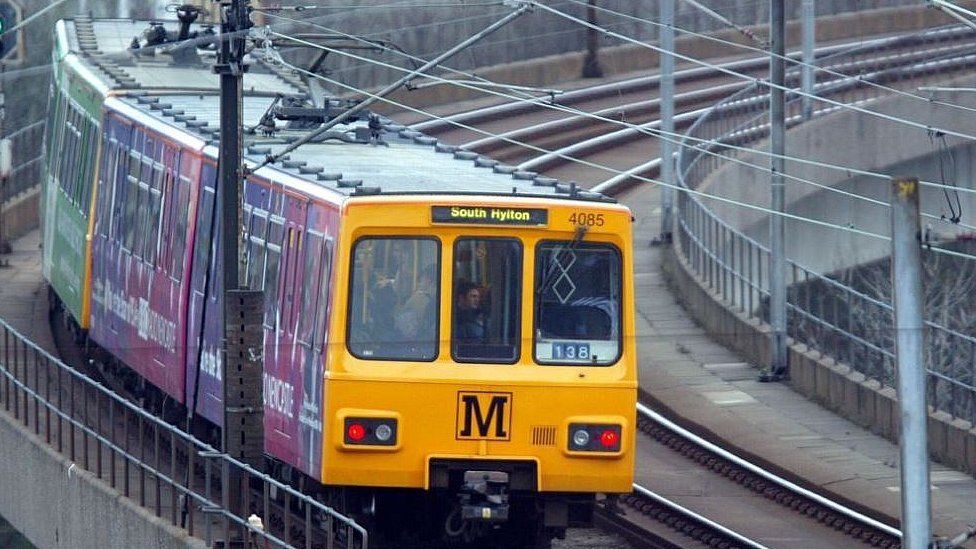 Councillors have rejected an above-inflation fare rise on the Tyne and Wear Metro for fear of damaging the service's post-pandemic recovery.
A plan to raise ticket prices by 4.6% was deemed "detrimental" to hopes of attracting passengers once lockdown restrictions are eased.
The North East Joint Transport Committee backed a 1.6% increased after agreeing a blanket price freeze was "not considered to be affordable".
Prices will change in April.
An adult single or all-day ticket will increase by 10p, weekly passes by a maximum of 20p, four-week tickets by up to 80p and annual passes by no more than £7 from 1 April.
However, prices are being frozen for under-18s as well as for elderly or disabled passengers with a Gold Card.
Councillor Joyce McCarty, deputy leader of Newcastle City Council, said the fare rise was an "unfortunate decision" but she felt the agreement protected the elderly, disabled and young passengers.
The new fares will see a one-zone single ticket go up from £2 to £2.10; a two-zone single from £2.90 to £3 and an all-zone single from £3.60 to £3.70.
A one-zone adult day ticket will go up from £3.20 to £3.30; a two-zone day ticket from £4.30 to £4.40 and an all-zone Day Ticket from £5.30 to £5.40.
The Metro Gold Card, which gives pensioners and people with disabilities unlimited off-peak Metro travel, will stay at £12, or £24 for users not resident in Tyne and Wear.
And the charge for drivers using the Tyne Tunnel, which runs between Jarrow, in South Tyneside, and Howdon, in North Tyneside, will increase by 10p to £1.90.
Gateshead councillor John McElroy said the "modest increase" would help make sure "its future is secured" after user numbers dropped significantly in recent months.
Related Internet Links
The BBC is not responsible for the content of external sites.