Airgun attack: Cat survives surgery after being shot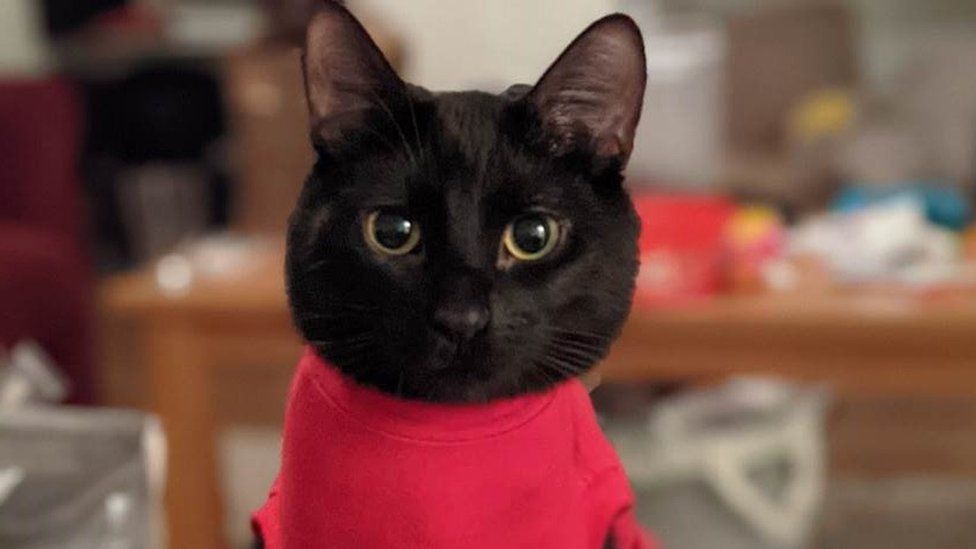 A cat who was shot in the neck with an airgun has made a full recovery after more than an hour of surgery.
Two-year-old Kit's owner Rhianna Bates did not realise he had been wounded when he bolted through their cat flap in Consett, County Durham.
It was not until later that night they noticed he was bleeding and took him to the vets.
Ms Bates said the person responsible for the shooting was an "idiot".
Ms Bates said: "It was actually the first anniversary of us getting him and he came racing in through the cat flap.
"We thought he'd just been spooked by something and he went to sleep.
"It was only when he wasn't interested in his food that we realised something was wrong and then spotted the wound on his neck."
Ms Bates was told an operation would risk nerve damage as the pellet was so close to Kit's spine, but decided he should have surgery.
Ashley Wemple, senior vet nurse at Vets Now in Gateshead, said: "It looked like bone may have stopped the path of the pellet, but it had gone deep and it took more than an hour of surgery and numerous radiographs to locate it due to its position."
Kit was given painkillers for several weeks and had to wear a suit to protect his stitches, but has made a full recovery.
Ms Bates added: "We'd been told about the risks, but we knew we couldn't leave him in pain. I couldn't bear the thought of saying goodbye to him."
"We don't know if he was shot deliberately or hit when the idiot was aiming at something else - it really doesn't matter, people just shouldn't have these weapons."