Long Covid kids: Mum's 'heartbreak' over children's illness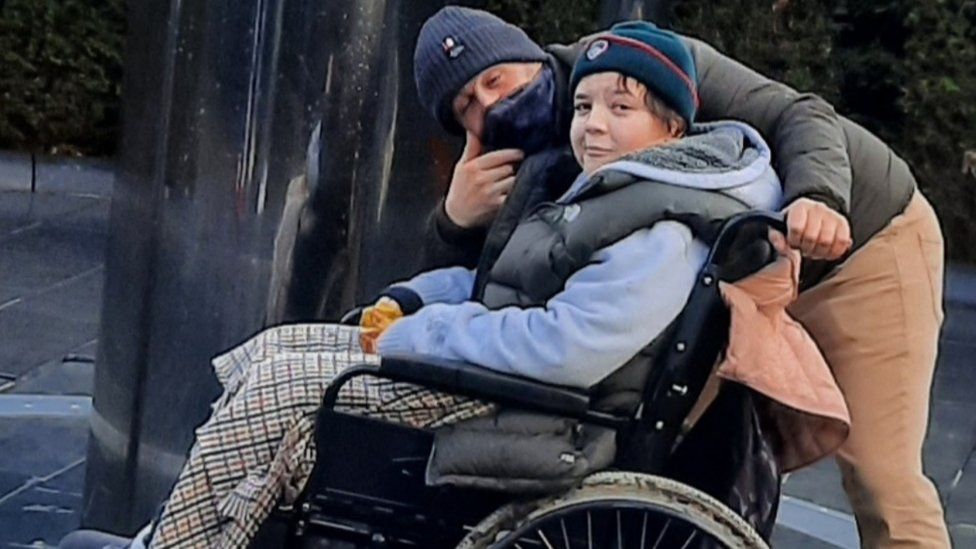 A mum has described how it was "horrendous to watch" as her son and daughter suffered the debilitating effects of so-called long Covid.
Nichola Careless, from Ashington, said her daughter Eleni, 11, tested positive last year and was mildly ill at first.
But her symptoms became severe and she continues to have shortness of breath, stomach ache, joint pain and dizziness.
Her 12-year-old son, Immanuel, became even more ill and the once-keen sportsman now has to use a wheelchair.
Although Eleni had a positive test for Covid in September, Immanuel's result was negative. But what at first seemed a common cold for him developed into a fortnight-long cough, before both children became severely ill.
Ms Careless told BBC Radio Newcastle: "They had rashes across their faces, bad stomach ache, heart palpitations, shortness of breath and confusion, not knowing where they were, and the skin peeled off their hands and feet.
"It was horrendous for me to watch."
Her son's joint pain became even worse, making him effectively paralysed from the neck down.
He was taken to hospital where it was confirmed that he "had been exposed" to Covid.
Ms Careless said: "For Immanuel now it's almost like chronic fatigue syndrome.
"He was always so active, used to play football and rugby but can only take a few steps around the house, otherwise he has to use a wheelchair.
"It's absolutely heartbreaking - when your child says to you every day 'Am I ever going to walk again? Am I ever going to play rugby again?' It's just heartbreaking when you don't have any answers."
Sammie McFarland from Long Covid Kids, which supports more than 1,200 children, said in some cases youngsters had still not recovered nine or 10 months after contracting the disease.
"I can't think of any other words to describe it apart from harrowing - it's horrific," she said.
"In most other cases as a parent you've got some resource, you can go to to find out information if you're concerned or have problems, [but] having a child with long Covid there's nowhere you can go to."
A Department of Health and Social Care spokesperson said: "We are continuing to work with our outstanding scientists to improve our collective understanding of the impact long Covid has on people of all ages - making sure we deliver the best support possible to affected individuals.
"To help people suffering with long Covid, we have opened new specialist NHS clinics across the country which provide assessment for adults, children and young people alike."
Long Covid presents as a range of different symptoms suffered by people weeks or months after being infected, some of whom had not been very ill with the initial virus.
Fatigue is the most common problem, but breathlessness, a cough that will not go away, hearing and eyesight problems, headaches and loss of smell and taste have all been reported.
Danny Altman, a professor of immunology at Imperial College London, said it was possible there were as many as 300,000 people with long Covid in the UK.
But he said the research was in its "early stages" particularly among children and adolescent patients.