Covid: Northumberland caravan removal 'makes mockery' of lockdown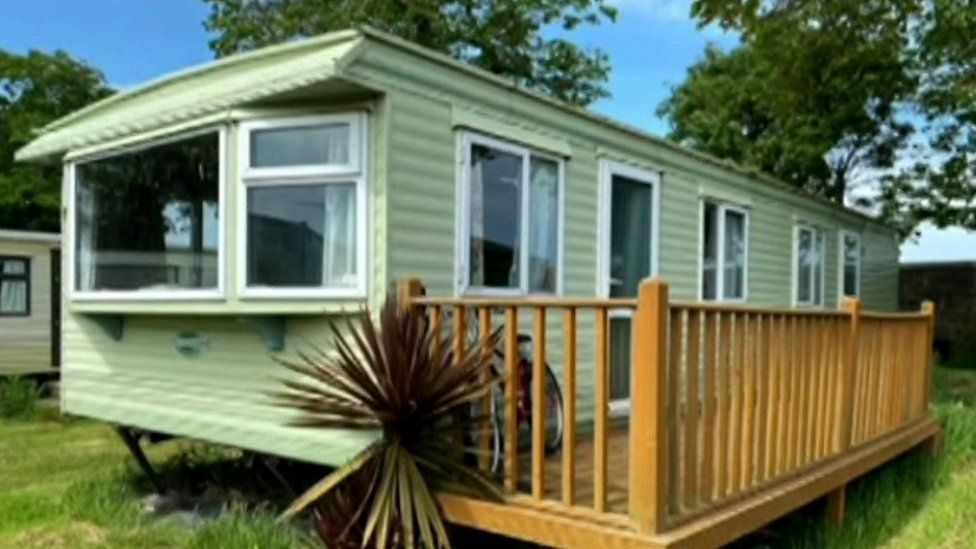 A group of caravan owners claim they are being forced to break lockdown rules after being told they must remove their holiday homes in Northumberland.
The firm which runs Newton Hall Caravan Park, near Alnwick, wants to replace them with luxury cabins as it adapts its business during the Covid pandemic.
Asked to remove their caravans by Saturday, owners said it meant long journeys and risked spreading Covid.
The Apartment Group, which owns the site, said it was legally permitted.
The owners of 30 static caravans were told of the decision in January and were given until Saturday 13 March to remove the homes and contents.
However, some have raised concerns that people would have to travel from across the country during the coronavirus lockdown, which would put their and others' health "at risk".
Kirsten Oakes, from Bradford, said she would have to make a six-hour round trip to the site.
"I just feel like we have no alternative but to do it," she said.
"Once we get to the site, we are going to be mixing with people from all over the country and it kind of makes a mockery of the fact we have stuck to the rules all this time and we have no alternative but to break them."
Fellow caravan owner Chris Archibald, from Gateshead, has been travelling to the site for about 20 years after his parents bought a static caravan there.
He said: "If you look at the restrictions around Covid, they are asking people to put their health at risk. There's no concern for us as individuals or anyone on the site who has been asked to leave."
Meanwhile, Helen Pritchard, from Hebburn, South Tyneside, said she was concerned she would have to travel to the site where a "mass amount of people" would be.
The Apartment Group, which also owns a number of bars in Newcastle, said Covid-19 had forced many hospitality businesses to close, "resulting in virtually no income" for almost a year.
It said it had been forced to "make adjustments" to its business model to "protect as many jobs as possible".
The decision not to renew contracts for some caravans at Newton Hall was made "with a heavy heart", the Apartment Group said.
It added: "Individuals are allowed to leave their home if they have a reasonable excuse (which this is) and to fulfil a legal obligation (which this also is)."
The government's lockdown rules state that while holidays are "not a permitted reason to travel", people can leave home to fulfil legal obligations, which is classed as a "reasonable excuse".
Related Internet Links
The BBC is not responsible for the content of external sites.