Farne Islands: Boat owners worried about changes to visits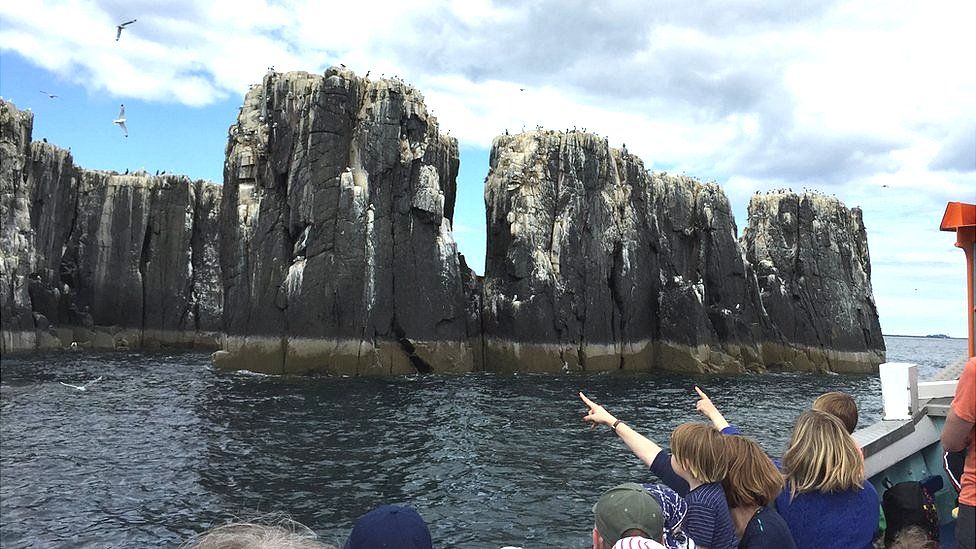 Boat operators who take passengers on trips to the Farne Islands claim their livelihoods are under threat from proposed changes to visitor bookings.
The National Trust, which owns the islands off the Northumberland coast, wants trips arranged via its website, rather than with local boat companies.
Operators in Seahouses said the change and a new limit on visitor numbers would affect their businesses.
The National Trust said it was aware of concerns and discussions were ongoing.
The number of people landing on Inner Farne has long been limited due to the risk to its wildlife, which includes grey seals and puffins.
However, boat owners are concerned day trippers may be deterred from visiting the islands if people are only able to book in advance.
They also say it will only be possible to book a trip one week in advance, and group bookings will not be allowed.
Andrew Douglas, from Serenity Boat Tours, said he was concerned about how the changes might affect the village as a whole.
"[Imagine] that person, maybe coming from abroad, getting a flight, buying a cup of coffee in the village, car parking in the village ... you've got to look at the bigger picture."
According to Rachel Shiel from Billy Shiel Boat Trips many people cited their main reason for coming to the area as a visit to the Farne Islands.
"Their plans all changed, they cancelled travel arrangements and hotels," she said.
"They're going to a different area because they can't get what they want here."
National Trust spokesperson said: "The Farnes are one of the UK's most important habitats, home to wildlife such as grey seals and around 200,000 seabirds, many of which are endangered.
"We are always mindful of the delicate balance between visitor access and wildlife conservation.
"We are sensitive to the impact any changes may have on the companies currently offering Farne Island tours.
"We are in discussion with the operators about how we can work together to find a solution and as these are private conversations, we're unable to go into specific detail at this time."
Related Internet Links
The BBC is not responsible for the content of external sites.