Wingate fire: Ex-marine's home destroyed 'after standing up to yobs'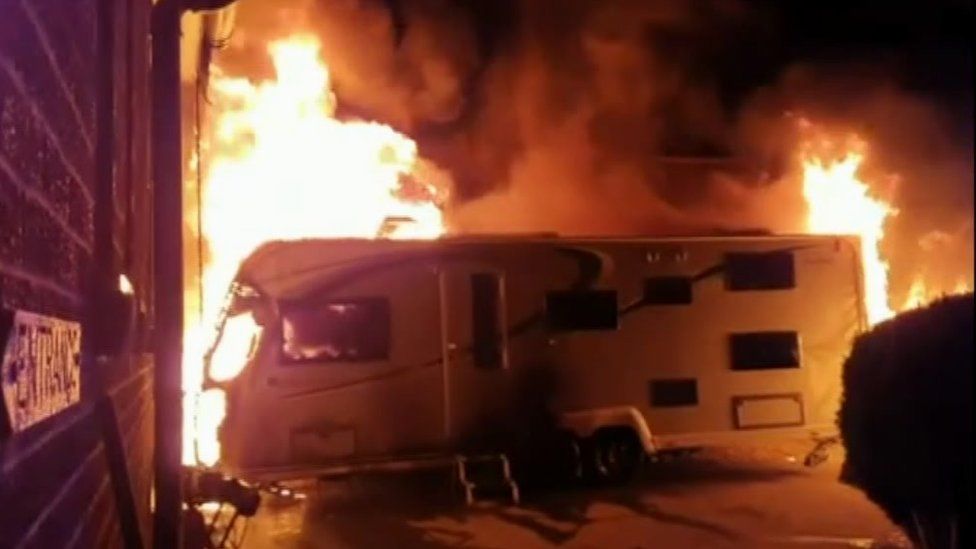 A teacher and ex-Royal Marine said his family is lucky to be alive after a suspected arson attack which destroyed their home in County Durham.
Sean Ivey, from Wingate, fled to safety with his wife and two children after a fire broke out early on Thursday.
Mr Ivey, who served in Afghanistan and Iraq, believed he was targeted after standing up to anti-social behaviour.
Two men have been arrested and Durham Police issued a 48-hour dispersal order in the area.
"I just woke up in bed and felt the need to look out of the window," Mr Ivey said.
"I shouted to my wife that the car was on fire, go and get the kids."
It broke out around 01:45 GMT. Flames from the car then spread to a caravan parked on the driveway, before spreading to the roof of the bungalow.
A second fire broke out during the early hours of Friday. Nobody was inside at the time.
Durham Police are treating them as suspected arson.
Mr Ivey, who served with 45 Commando, said young people had been spotted riding around the area on quad bikes wearing balaclavas, "terrorising" other road users.
"[There have been] burglaries, car fires, this is quite extreme but these aren't isolated incidents," he added.
"I'm just absolutely fed up of the anti-social behaviour, the lack of respect, the lack of discipline, and where does it stop?"
On Wednesday, hours before the first fire, Mr Ivey posted on social media that his parents had been robbed when four men burst into their home.
He said he had a run-in last weekend with a young biker "riding like a lunatic" and saw another in the main street of the former mining village pulling wheelies and mounting the paths.
He also called out gangs gathering outside a local takeaway.
A fundraising campaign has raised more than £50,000 to help the family, whose home was not insured because a policy had run out.
Photographs, medals and Mr Ivey's Royal Marines uniform have also been lost.
Two men, aged 22 and 25, have been arrested. Police said they were continuing to carry out lines of inquiry in relation to the second fire.
Insp Emma Kay said it had had "a huge impact" on the family and the wider community.
"I would encourage anyone with information no matter how small it may be to come forward and help us bring the offenders to justice," she said.
Patrols are being increased and the dispersal order will be in place over the weekend, meaning anyone failing to leave when asked will face arrest.
Related Internet Links
The BBC is not responsible for the content of external sites.