Northumberland Samaritan overcomes stammer to help others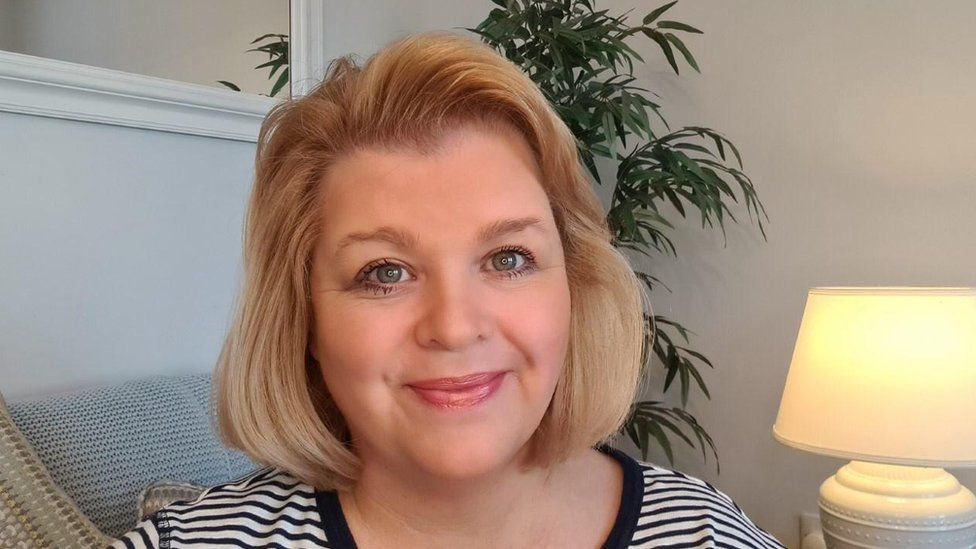 A childhood stammer left Lisa Nealan afraid to speak, but now she is using her voice to help other people who are struggling.
From the age of eight, a "really bad stammer" meant Lisa Nealan had a fear of speaking.
Now, the 44-year-old from Widdrington, Northumberland, is a Samaritans volunteer and regularly speaks to people who call the charity's helpline.
Volunteer listeners like Lisa have provided "emotional support" more than 2.3 million times since March 2020, when coronavirus restrictions were first introduced in the UK.
"I had help from the McGuire Programme, which is a speech therapy programme, in 2015," she said.
"One of the things I really wanted to do once I gained control was to do something really worthwhile with my voice.
"I couldn't think of a better way to use my voice than to become a Samaritan".
Lisa joined in October 2019 and began taking calls in January 2020. She is an administrator at Northumbrian Water throughout the day, and volunteers with Samaritans "a few times a week".
"I'm inspired because I've been on the other side of it," she said:
"I've had to contact Samaritans before, before I became a listener.
"I didn't have a voice, I was a single parent, I was struggling and I depended on them. I know how hard it is to contact them."
Lisa says she had to leave jobs in the past because she "couldn't handle" having to speak on a phone around colleagues.
"I've had ups and downs along the way but I'm really happy with the fact there's no fear now," she said, adding: "I can go and do a four-hour shift without fear of speaking, which is amazing.
"There were nerves when I first started. It was daunting. What type of calls would I get? Would I be able to handle it? Would my speech hold up under pressure?
"It's testing, but it's held up every time.
"I couldn't use a phone before - now I'm choosing to pick one up and I feel like I use my voice for good."
Some calls are "heavy", but Lisa says the helpline "is for everyone".
"I think people tend to think you would have to be suicidal to ring Samaritans but the whole aim is to bring down suicide rates," she said.
"If something is on your mind then it's worth talking about. It doesn't matter how your feelings compare to other people's. It's best to talk about these things early on.
"It's like speaking to a good friend but without those emotional ties, which gives people the freedom to express how they feel in a nice, calm manner. You're not rushed.
"Callers will say things like 'I don't know what to say, I've never called before' and it's a case of making them understand that we know how difficult it is to pick up the phone. It takes a lot to open up sometimes."
Volunteering on the helpline and spending hours on the phone has helped Lisa continue to control her stammer throughout lockdown.
"As stammerers, we tend to isolate ourselves rather than risk a blip in speech that makes us feel shame," she said.
"Actually getting out and confronting that fear has kept me going, speech-wise.
"I know a lot of friends who have stammers who have really struggled."
If you have been affected by any of the issues in this story you can find help and support from BBC Action Line here.
Related Internet Links
The BBC is not responsible for the content of external sites.