Tynemouth lifeboat crew commended for father and son rescue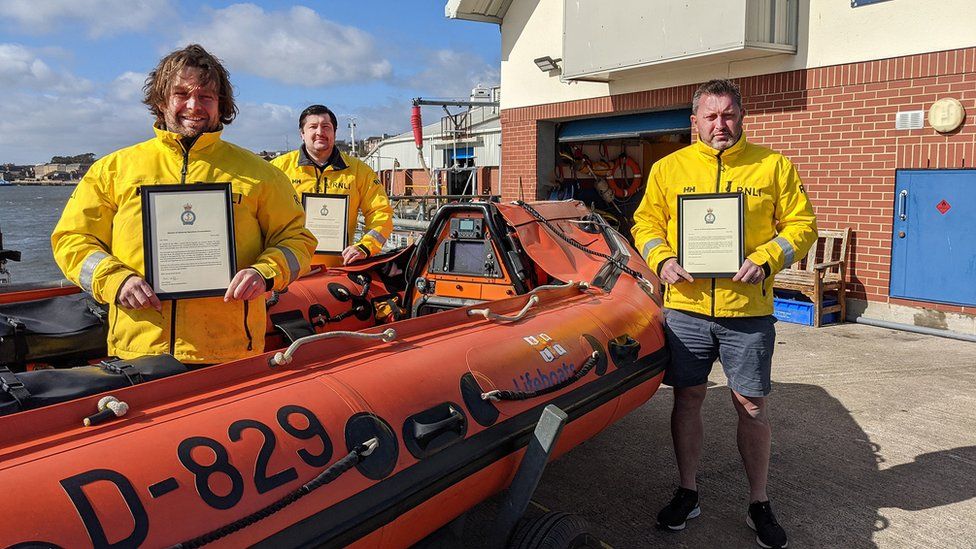 A lifeboat crew who saved a father and son from drowning have been given an RNLI commendation.
The man and boy had been swept away by a rip current while swimming and were found clinging to Marsden Rock in South Tyneside by their finger tips.
The Tynemouth RNLI crew's 2019 rescue was made extra dangerous by 6ft (2m) high waves breaking over their boat.
The casualties were treated for cut feet and hypothermia. Three crew members received commendations.
A family of three had been swimming at Marsden Beach on the evening of 14 July 2019, when, at about 20:50 BST, they were pulled by a rip current.
The mother was swept all the way round the large rock and managed to scramble to safety, but the father and son were only able to grab on to a small ledge.
The Tynemouth inshore crew of Michael Brown, Mark Taylor and lifeboat helm Mark Charlton were nearly washed overboard by the waves, the RNLI said.
They used a technique called veering down to get close to the rock, with the casualties jumping into the sea and then being quickly picked up by the crew.
At the time, Tynemouth RNLI spokesman Adrian Don said the man and boy had been in a "very precarious and potentially life-threatening" state, adding: "It's no exaggeration to say that this was very close to becoming a drowning incident."
Giving the commendations, lifeboat operations manager Doug Nicholson said: "While it only took around seven minutes in total to get the lifeboat into the surf and rescue the casualties, it was still a very challenging situation.
"Our volunteer crew members used their training and experience to good effect and performed without fault to ensure the effective rescue of the casualties from a life threatening situation."
Related Internet Links
The BBC is not responsible for the content of external sites.