Sunderland e-scooter hire scheme launches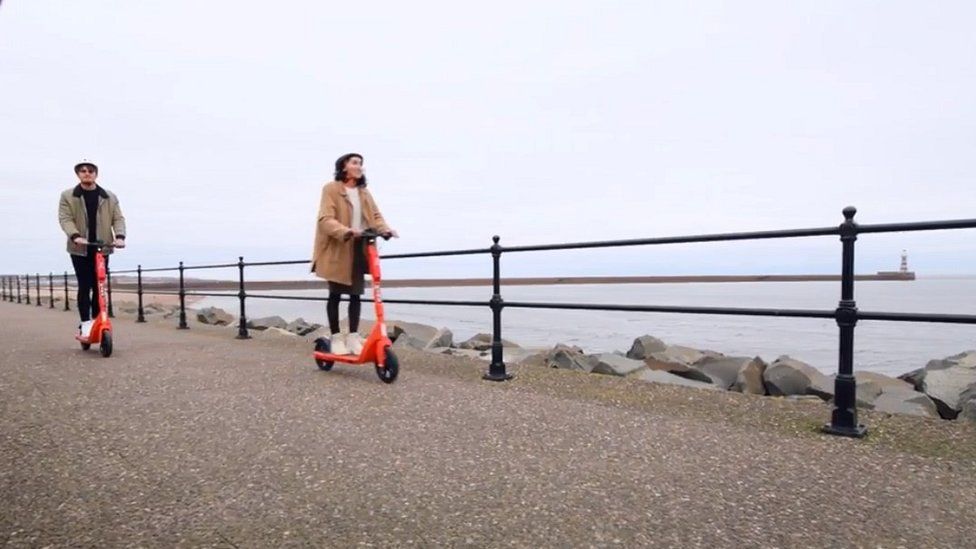 An e-scooter scheme has launched in Sunderland with the first of 300 being rolled out across parts of the city.
Neuron Mobility, the scooter operator, has installed a "reaction test" on its app after 21:00 so users can determine if they are in a "fit state to ride".
The pilot in Sunderland, which is backed by the city council, will run for 12 months and covers areas such as Roker and Seaburn.
The scooters have technology installed so they can only be used in certain areas and a night curfew which operates between 23:00 and 05:00 and "will make it impossible" to ride the units.
During the first week of the Newcastle trial almost 8,000 journeys were made on the hire vehicles, which can travel up to 15mph.
Complaints raised to the council included under-age users, people riding two at a time and scooters being raced. More than 40 people have been given two-month suspensions.
George Symes from Neuron Mobility said it has a "zero-tolerance policy" against dangerous use of its vehicles, including riding under the influence of alcohol.
"In Newcastle we have learned lots of things, we have learned the importance of setting up geo-fences to control where and how the e-scooters are ridden.
"We really hope that will curb the anti-social behaviour that sometimes you get with the minority."
Mr Symes said the reaction test would offer "an extra point of self-reflection" for the user.
"With any mode of transport you always face the issue of how do you control the behaviour of the end user, be it a car, a train, even an aeroplane. You can't control the behaviour of the end user 100%," he added.
"What you can do is to take every measure possible to influence their behaviour in the right way."
The scooters, which come with a helmet, can only be used by adults who hold a full or provisional driving licence.
Related Internet Links
The BBC is not responsible for the content of external sites.