Caroline Kayll murder: Cage fighter Paul Robson jailed for 35 years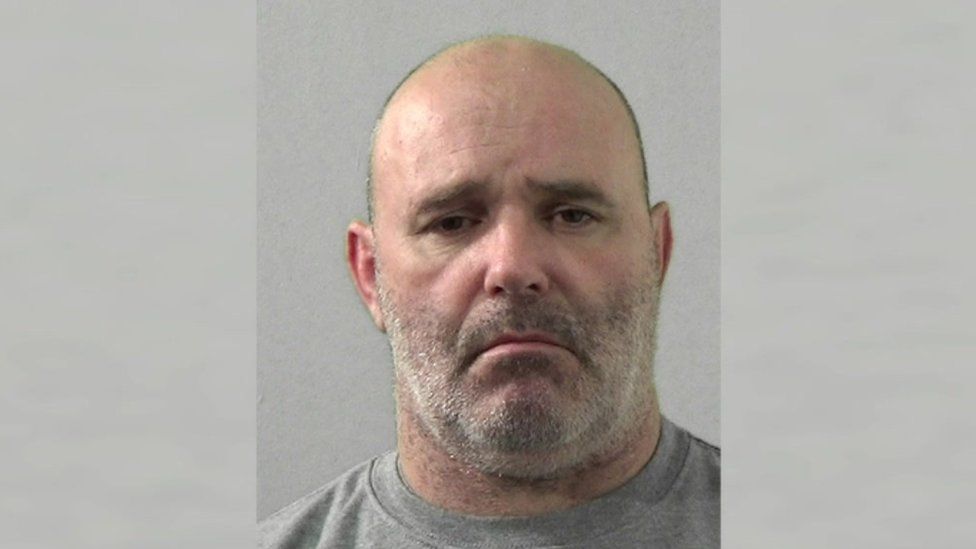 A cage fighter who murdered his ex-partner after blackmailing her about an unlawful relationship with a 15-year-old boy has been jailed for 35 years.
Paul Robson, 50, inflicted fatal injuries on teacher Caroline Kayll, 47, during a sustained attack at her Northumberland home in November.
He also tried to kill the boy Ms Kayll was in a secret relationship with.
He had blackmailed Ms Kayll about her relationship with the boy and, despite her paying him £29,000 for his silence, launched a terrifying attack on the two at her home in Linton, near Ashington.
The former MMA fighter, who has 21 convictions for 92 offences over more than three decades, kicked her in the head while wearing heavy work boots, slashed her with knives and may have strangled her, jurors heard.
She later died in hospital from catastrophic brain injuries.
Robson also seriously injured the 15-year-old and was convicted of his attempted murder.
Both the victims were sprayed with ammonia - which Robson had armed himself with along with screwdrivers, pliers and a wrench - and had their phones taken so they could not call for help.
The court heard Robson began an affair with Ms Kayll when she was a married prison education worker and he was an inmate at HMP Northumberland.
He eventually moved into her home but after they split up the cage fighting coach threatened to "ruin" her when he discovered her illicit relationship.
On 15 November, he drove from Glasgow to confront her and carried out the vicious assault.
In sentencing Robson to life imprisonment with a minimum term of 35 years, Mr Justice Lavender said the crimes were aggravated by the use of ammonia as a weapon, that the attacks happened in the home where they had lived together and he had used "gratuitous violence" on Ms Kayll as she was dying.
"You ended her life and you brought grief and misery to the lives of others," the judge said.
"Her ex-husband, Ian Kayll, has said that there are absolutely no words to describe her family's feelings about her loss."
A victim statement from the boy's mother, which was not read out in court, was "very moving", the judge said.
"She says that, 'The last few months have been a living nightmare for us and have left us all in utter turmoil.
"'None of our lives will ever be the same again, the events that took place [on that night] will haunt us forever'."
Northumbria Police has now said it will be carrying out a review to establish whether "any opportunities to arrest Robson were missed".
Related Internet Links
The BBC is not responsible for the content of external sites.