Newcastle residents complain about 'disgusting' park litter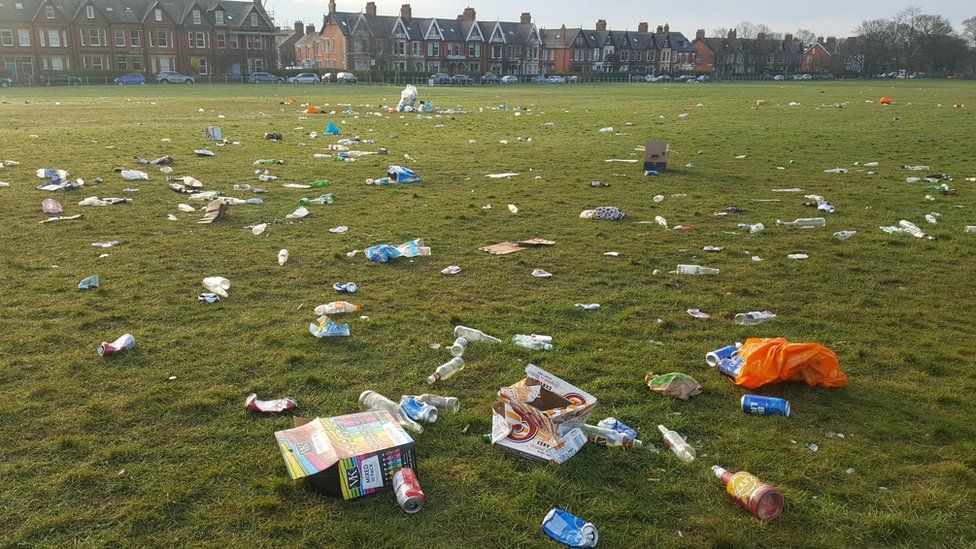 Parks in Newcastle were left covered in "disgusting" litter after the sunny weather brought out crowds.
People living near popular areas such as the Town Moor, Heaton Park and the City Stadium in Shieldfield complained about overflowing bins and discarded debris left behind on Tuesday.
Newcastle Council said it had provided extra bins and cleared up litter as "quickly as possible".
There were also complaints about refuse left after beach parties in Tynemouth.
Jesmond resident, Laurence Taylor, told the Local Democracy Reporting Service: "It's great to see students going out and having fun - it's been a hard year for them as much as anyone. 
"A lot of them were really responsible and cleared their rubbish away.  
"Unfortunately, there were also a lot who didn't seem to care and they've made the local residents furious. 
"Please, clean up after yourself, it's hard enough trying to keep relations good between students and residents without this going on."
One dog walker, who asked to remain anonymous, said she was "horrified" by the mess on the Little Moor early on Wednesday.
"I understand why people are getting together but please don't leave a mess like that, the broken glass and the bottles are a hazard," she added.
"Everybody wants to be out in the sun but people shouldn't behave like that - it is disgusting."
Urban Green Newcastle, the charitable trust which runs the city's parks, said it was "extremely disappointed at the lack of care and consideration shown to our parks and green spaces by a few inconsiderate people".
A spokesperson for Newcastle City Council said: "Where litter is left on the land we manage, we clean it up as quickly as possible.
"Yet this is an issue we cannot tackle alone and our continuing message to residents is that this is your city and your home and we need you to share the responsibility for making and keeping it the clean, green, brilliant place we all want it to be."
Related Internet Links
The BBC is not responsible for the content of external sites.