Lost Voice Guy: Lee Ridley chooses new Geordie accent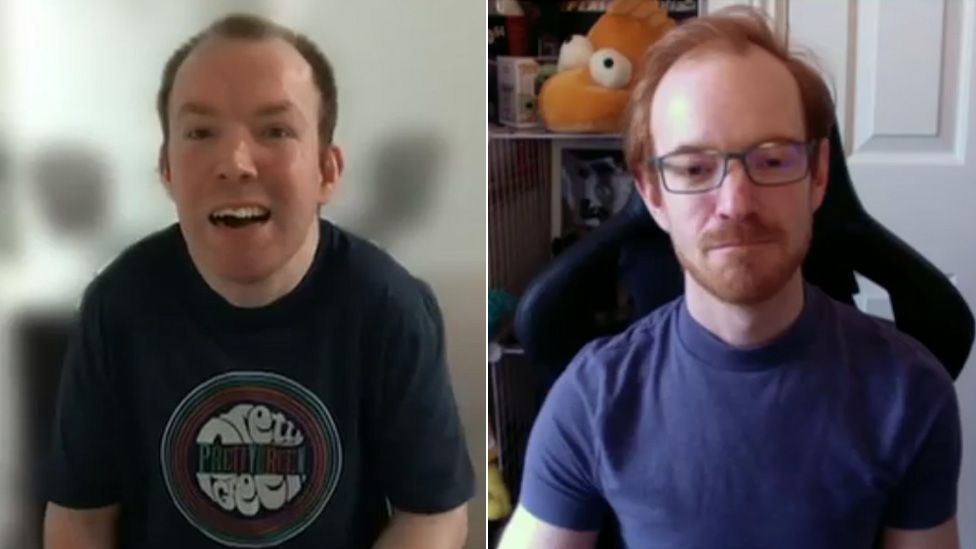 North East Britain's Got Talent winner Lost Voice Guy has found a new one with a Geordie accent.
Comedian Lee Ridley, from Consett in County Durham, uses a speech app to communicate because his cerebral palsy means he cannot speak.
But he said his current electronic voice "sounds like I should be reading the shipping forecast on Radio 4".
Ridley listened to nearly 500 alternatives before choosing voice-over artist Dan Pye, from Whickham.
"Dan's voice was the one that I kept coming back to and listening to over and over again," he said.
Pye said it was "such an honour" to lend his voice to such an "inspirational" public figure.
"Being a Geordie has a very distinctive, nationally recognisable tone which I am very proud of," he said.
"Sharing that with Lee, I hope will give him a sense of identity that the rest of the North East are famed for."
Ridley said he was very excited to "sound more like my family and friends".
"There's nothing wrong with my current voice except from the fact that it sounds very posh," he told BBC Morning Live.
"I don't think my current voice represents where I'm from and it isn't exactly the voice that I would have had if I wasn't disabled."
Ridley won Britain's Got Talent in 2018 by the public vote, taking home £250,000 and a spot at the Royal Variety Performance.
He also won the BBC New Comedy Award, performed at the Edinburgh Fringe and created the sitcom Ability for BBC Radio 4.