Newcastle's plastic grass sparks 'carbon footprint' row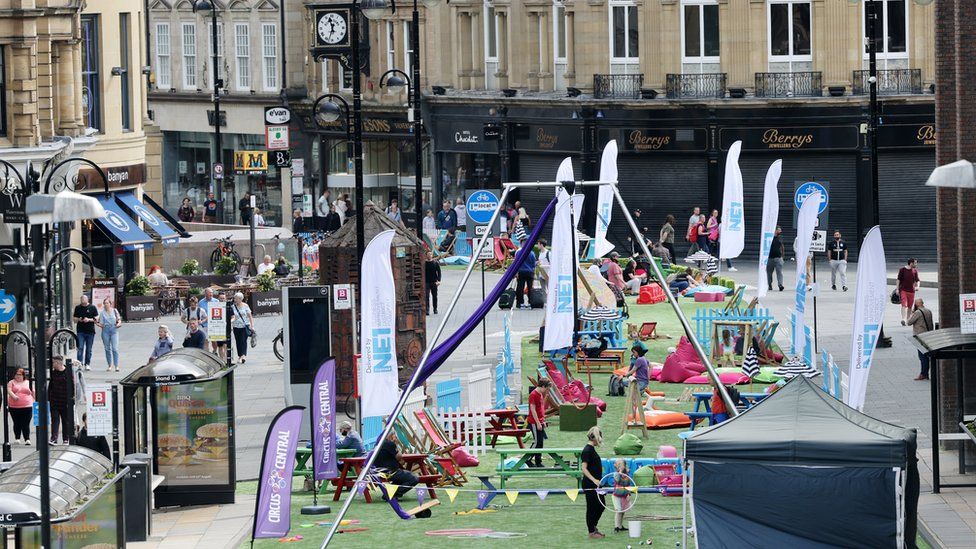 Environmental campaigners have urged council bosses to introduce a ban on plastic grass in a city centre.
An artificial lawn has been used on Newcastle's Quayside over summer and covered the road in Blackett Street.
Campaigners previously complained about the use of the fake grass, which they said had a "huge carbon footprint", and called for Newcastle City Council to stop using it on land it owns.
The council said it could not prevent its use but it backed biodiversity.
NE1, the city's business improvement company which organises summer events, said it tried to use "as little artificial grass as possible".
The strips of fake grass have been laid over recent weeks as part of activities designed to encourage more people into the city.
Rachel Locke, from the Save Newcastle Wildlife group, said she had been "appalled" to see the "widespread use" of plastic grass in public spaces.
"It has a huge carbon footprint and breaks down into tiny pieces that find their way into our water, food and air," she said.
Ben Whitfield, head of marketing and events at NE1, said using natural grass in busy areas "simply wouldn't be practical".
"Laying real turf and having to replace it every time it was damaged would have a greater environmental impact and would not be feasible," he said.
"What we do use is reused, much of it has been used in previous years at NE1 events and installations."
He added that real trees had been placed at the Monument and in Grainger Street, as well as dozens of large planters along the Quayside.
The council said the government had indicated there were no plans to make planning permission a requirement for the use of plastic grass and added it had no plans to use it elsewhere.
Related Internet Links
The BBC is not responsible for the content of external sites.