Sunderland: Tribute stones for 250 servicemen and women dedicated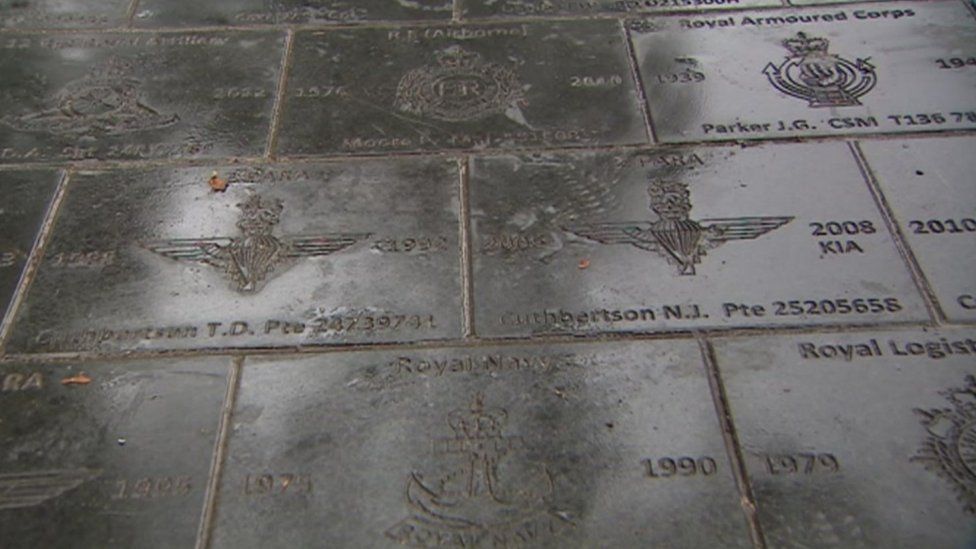 The contribution of servicemen and women past and present has been celebrated with the unveiling of 250 tribute stones.
The Veterans' Walk project in Mowbray Park was built in honour of those who have died or are still serving in the British Armed Forces.
It was founded by Tom Cuthbertson whose paratrooper son Nathan, 19, was killed in Afghanistan in 2008.
Mr Cuthbertson said the walkway had 1,000 stones and more were planned.
Nathan Cuthbertson died in a suicide bombing while on patrol in Helmand.
Mr Cuthbertson and his wife Carla have kept his memory alive by raising more than £400,000 for veterans and other charities, for which they were awarded MBEs.
Mr Cuthbertson said he set up the walkway project as a distraction after the loss of his son.
"I didn't do it for any gratification but it keeps me going. It's a project that's just kept growing," he said.
"The path isn't just about giving your life in conflict, it's about celebrating and having a tribute path for everyone's service.
"Some who are still serving have a stone because they wanted one, it's engaging with everyone with a military background."
Related Internet Links
The BBC is not responsible for the content of external sites.