Boy, 11, gives Tynemouth seal hospital biggest donation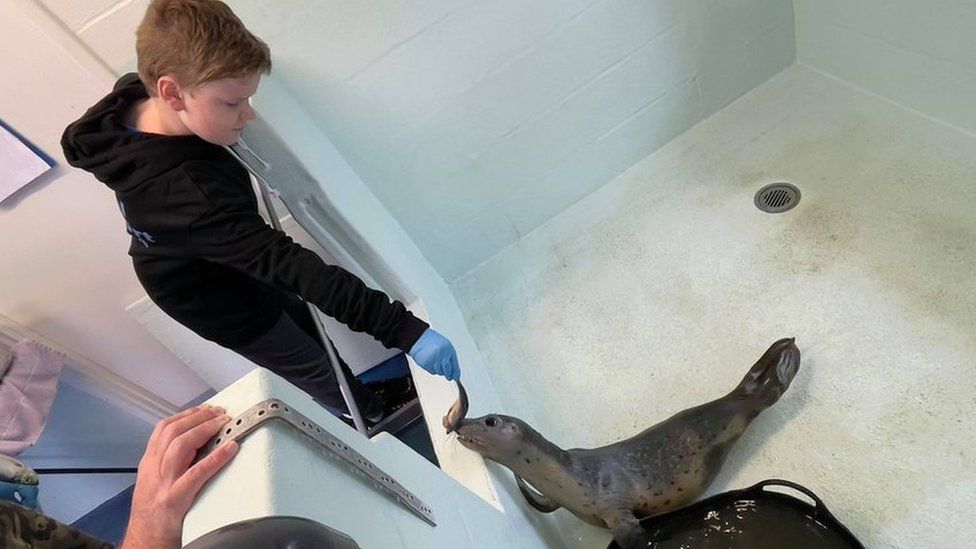 A seal hospital has received its biggest-ever single donation from a member of the public after an 11-year-old boy raised more than £1,000.
Oliver, who loves seals and is also a fan of Star Wars, cut off his beloved "Jedi braid" as part of his fundraising efforts for the hospital, based at Tynemouth Aquarium on North Tyneside.
His initial target of £500 was more than doubled to reach £1,096.
The seal hospital said the money would help pay for vet bills and medicines.
Aquarium staff and seal hospital volunteers take in sick, injured, or abandoned seals from around the North East and sometimes further afield.
Since it opened in 2017, more than 100 have been cared for and the majority then released back into the wild.
Oliver's mother, Rachael, said: "He's a huge fan of Star Wars and had grown this 'Jedi braid' over lockdown.
"It was about 12in long but with him starting high school it wasn't really uniform policy and he knew it would have to be cut off, so he said he'd do it for charity.
"He debated which one but as he's keen on animals, and marine conservation, as well as wanting a local one, he decided on this."
As well as being sponsored to have the braid cut off, Oliver organised a cake sale, and set up a fundraising page.
Oliver said: "I was a bit sad to have it cut off, but actually not too upset because I knew it was going to a good charity.
"They made a big fuss of us, and I got to feed some of the seals."
His mother said: "They were so grateful, so we came away thinking what else we could do to support it.
"It's a small charity and they need a lot of money to keep going, but it doesn't have to be a grand gesture, just people giving a little bit."
The family, from Newcastle, is now considering other fundraising ventures, including a sponsored litter pick or beach clean around the aquarium.
A spokesman for Tynemouth Seal Hospital said: "[The money] will go a long way towards paying vet bills and buying medicines for the seals in their care.
"It is also the biggest single donation ever raised for the Seal Hospital by a member of the public."
He added Oliver's fundraising was "of great help, and it also spreads the message that our local seals are in need of help".
Related Internet Links
The BBC is not responsible for the content of external sites.