SSD Concerts: Questions over This Is Tomorrow festival work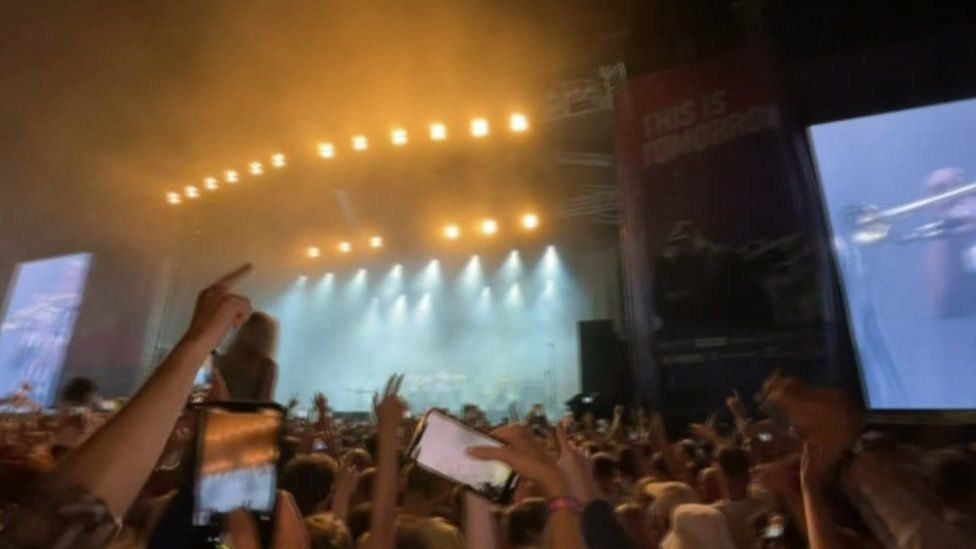 Questions have been raised about the involvement at a music festival of a promotion company whose founder is accused of sexually harassing staff.
SSD handed over promotion of the This Is Tomorrow festival, held in Newcastle at the weekend, to Kilimanjaro.
But several bands pulled out after SSD remained involved as a sub-contractor.
In April, a number of women made allegations of inappropriate touching and comments against SSD founder and managing director Steve Davis, which he "vehemently" denies.
At the time, SSD announced Mr Davis had resigned as managing director, but entries at Companies House still list him as an active director of SSD and various affiliates, including This Is Tomorrow Ltd.
The festival was headlined by Sam Fender, who after his performance said the lead-up had been "overshadowed by serious allegations that still need addressing".
The singer-songwriter, from North Shields, said Kilimanjaro "helped this show go ahead", adding: "We did everything in our power to ensure that thousands of fans didn't miss out."
Eddie Scott, guitarist from Sunderland band Picnic, said his group decided not to play the festival after he was told SSD "were still involved".
He said: "We were clear that we would be happy to play as long as SSD weren't involved so I emailed a former employee of SSD, who now works for Kilimanjaro, to get clarity on who was organising the festival.
"The reply was that SSD were still involved."
The level of SSD's involvement is not clear although the firm's lawyers said the company had operated as a "sub-contractor" to Kilimanjaro, who have been approached for comment.
Midnight Chic pulled out ahead of their slot at the event, saying in a statement: "We have received numerous messages regarding SSD Concerts who to our understanding are still very much involved with the festival.
"The allegations are very distressing to us."
In a video posted online before her performance, artist Nadine Shah said she chose to play the festival as there was a "new promoter".
She said: "I stand in solidarity and I believe each and every woman who has made accusations.
"But I choose to play this festival. We are playing this festival for the fans.
"I refuse to let there be yet again another female not present on a mainstage."
Meanwhile, Fontaines D.C. announced they would be donating their profits from the festival to Women's Aid Newcastle.
The BBC has spoken to a number of women who made accusations about Mr Davis' behaviour.
One said he would give "lots of women shoulder massages" in the office and on work nights out would "grope us and slap our bums".
She also said he made "inappropriate comments" about her appearance and "whether I looked attractive".
Another woman said there were "shoulder rubs" and "when you were talking to him he'd either look at your chest or comment on what you were wearing".
She also said he put his hand on her bottom, and on several occasions "rubbed" his finger across her lips.
"He carries this persona, well it's just Steve, it's OK," she said, adding: "But it's not OK. I didn't realise until I left that really wasn't OK.
"Sometimes you'd be too scared to say something because he holds a big part of the music industry."
In a statement released through their lawyers, Mr Davis and SSD said all the allegations were "without foundation and are vehemently denied".
The statement said: "SSD has no record of any complaint received from any member of its current or previous members of staff regarding sexual harassment."
It added that a former employee who now works for a rival promoter had spread "unsubstantiated and fictitious allegations".
Related Internet Links
The BBC is not responsible for the content of external sites.