North East buses cancelled over driver shortage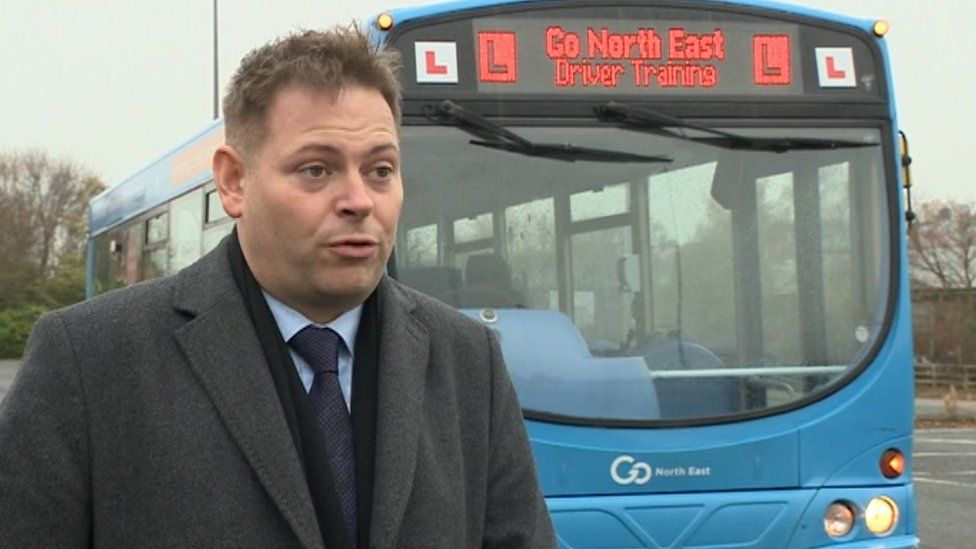 Bus passengers in the North East are being warned to expect disruption to their journeys due to a shortage of qualified drivers.
Operators said they are experiencing daily shortfalls in the number of staff needed, but cannot train up new drivers quickly enough to fill vacancies.
Go North East said there had been "considerable delays" in processing vocational licence applications.
Some existing drivers have also switched to driving lorries.
Martijn Gilbert managing director of Go North East - which operates across Northumberland, Tyne and Wear, County Durham and into Tees valley - said: "The key to this is absolutely to get the new applicants for the driving licence for a bus or coach turned around quickly."
Along with delays there was "competition for employment out there at the minute, people didn't need to wait if a job in another sector was coming along before they had their start date", he said.
Mr Gilbert said the shortage has led to cancellations and "that's not good for us and it's certainly not good for our customers".
Qualified drivers have also been lured away as hauliers have hiked wages.
Bus companies have raised salaries in response, but the industry has said there are limits to what can be done.
Councillor Martin Gannon, chair of the North East Joint Transport Committee, called for more government cash to support public transport.
He said: "It is essential that we reduce the cost of public transport to get more people onto buses, but we also need to pay bus drivers more to be able to drive those buses in the first place."
The government said it had significantly reduced delays in licensing drivers and put in £200m to help the industry recover.
Related Internet Links
The BBC is not responsible for the content of external sites.