South Shields hospital to get cancer diagnosis centre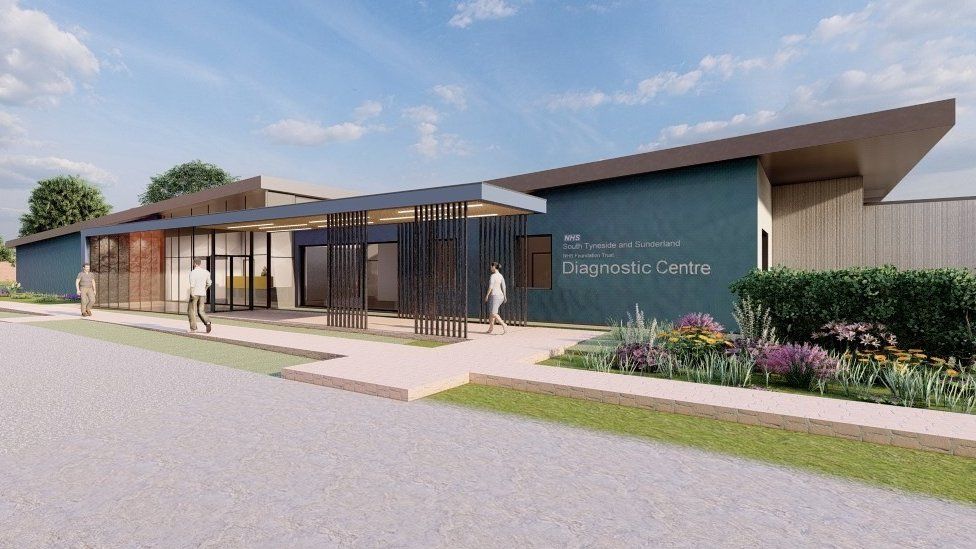 Plans for a £10m centre which will help diagnose cancer have been approved.
The centre at South Tyneside District Hospital means local residents will no longer have to travel to Newcastle or Middlesbrough for scans.
The new Diagnostic Centre will feature the latest scanning equipment from private company Alliance Medical.
The centre, which is hoped to open towards the end of 2022, will replace mobile scanning vans which are currently in use.
Work has already been carried out at the site with the demolition of the former nurses' home to prepare for the new centre.
The centre will include world-class MRI and CT scanning equipment along with a PET-CT scanner, which helps to diagnose cancer.
It will also be integrated with the trust's digital patient record system which the trust says will lead to treatment starting sooner.
Under the plans Alliance Medical will pay for the capital costs of the building and scanning equipment, with the health trust paying a fee "per scan" for an agreed timeframe of more than 10 years.
It has previously provided mobile diagnostic vans to South Tyneside and Sunderland NHS Foundation Trust (STSFT) for the past 10 years and provides PET-CT scanning across the entire NHS.
Hospital campaigners have previously raised concerns about this arrangement, however NHS chiefs have said it would be value for money.
Ken Bremner, chief executive of STSFT, said: "This is about creating services that are fit for the future and that provide the very best care to the local communities we serve.
"This is a major development for local people, not only in South Tyneside but across Sunderland and Durham too and we are excited to forge ahead and bring our plans to life," he added.
While acknowledging the concerns about the funding arrangements for the diagnostic centre, South Tyneside councillor Geraldine Kilgour, who sits on the planning committee, said the development would "provide stable services and reinforce the hospital site".
Related Internet Links
The BBC is not responsible for the content of external sites.