High Level Bridge: Graffiti cleaning costs lie with Network Rail, committee told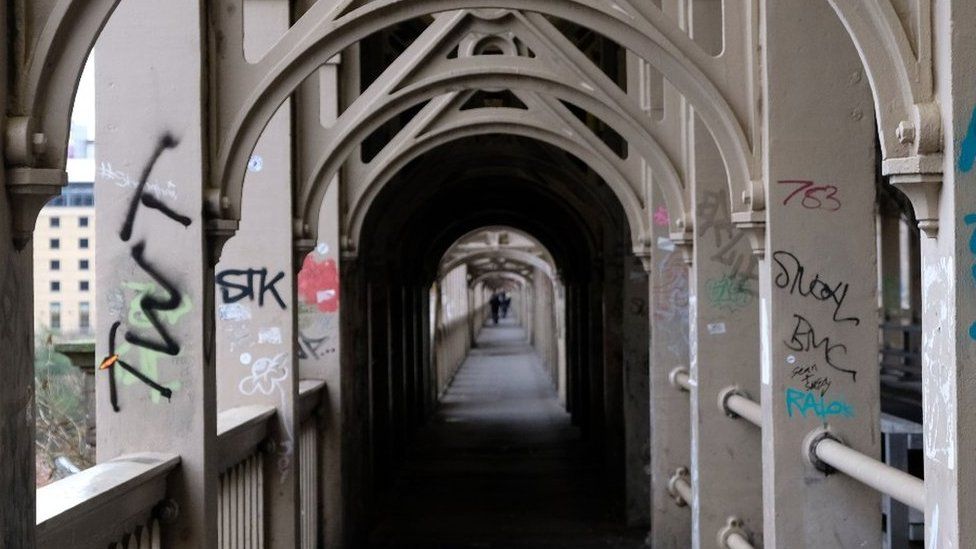 The cost of removing graffiti blighting the High Level Bridge across the Tyne lies with Network Rail, councillors have said.
The Grade I listed Victorian crossing for trains, buses, taxis, cyclists and pedestrians has fallen into an "unsightly" state, a committee heard.
Network Rail said more graffiti emerged, as soon as it was cleared.
The track operator has previously said it could not afford to pay the £40,000 cost of a cleaning programme.
A meeting of Newcastle and Gateshead councils' Joint Bridges Committee on Monday heard that the long-term problem of vandals defacing the bridge can deter pedestrians and cyclists from using it to cross to and from the city centre.
Committee chairman and Newcastle councillor John-Paul Stephenson said: "We would have all seen that the bridge attracts a high level, if you pardon the pun, of graffiti which can be unsightly.
"It is a shame considering it is such an important landmark and asset in our area," he added.
The Local Democracy Reporting Service heard councillors were told there was "nothing to prevent" local authorities on Tyneside from removing graffiti themselves if they wanted to.
But Mr Stephenson warned: "There is a danger that if we start doing this voluntarily then people will expect our councils to take responsibility for that when it is ultimately not ours, it is Network Rail's. That needs to be very clear."
Gateshead council's transport chief, councillor John McElroy, said: ""There were major works done about 13 years ago which I gather extended its life for 25 years or so, although that is dependent on regular inspection.
"It was in a lovely condition when that work was done and it has sadly deteriorated since," he added.
The committee resolved to write to Network Rail to raise its concerns.
Sarah Reid, director for Network Rail's East Coast route, said: "We respond to reports of any offensive graffiti as soon as possible, even when cleaning graffiti diverts valuable resources away from improving the railway.
"But on High Level Bridge we often find graffiti is back as soon as we clear it."
Related Internet Links
The BBC is not responsible for the content of external sites.