Lewd Roman insult found on stone near Hadrian's Wall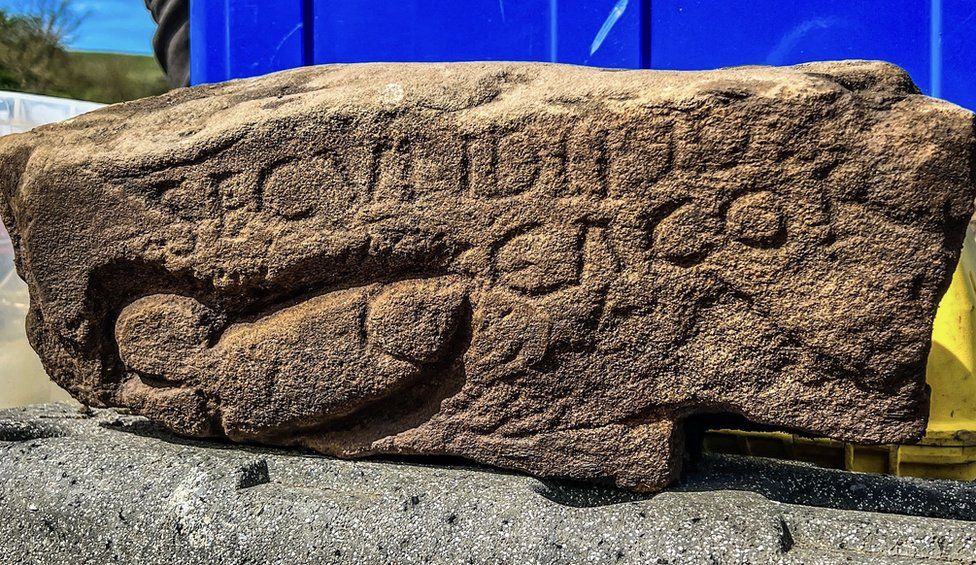 This story contains language some readers may find offensive.
Historians were left blushing when they deciphered ancient Roman graffiti carved into stone near Hadrian's Wall.
The insulting comment, inscribed more than 1,700 years ago, was unearthed near Hexham, Northumberland.
It featured words written about someone called Secundinus beside an image of a phallus - typically used as a Roman symbol of good luck or fertility.
However, experts believe its true meaning would have left the subject "less than amused".
Roman epigraphy specialists recognised the message, found at the Roman site of Vindolanda, as a mangled version of the words Secundinus cacator, which translates into English as "Secundinus, the shitter".
They believe the phallic image alongside it added "to the force of the written insult".
The stone - which is 40cm wide and 15cm tall - was found by Dylan Herbert, a retired biochemist from South Wales.
He made the discovery on 19 May towards the end of his second week volunteering on excavations.
"I'd been removing a lot of rubble all week and to be honest this stone had been getting in my way, I was glad when I was told I could take it out of the trench," he said.
"It looked from the back like all the others, a very ordinary stone, but when I turned it over, I was startled to see some clear letters.
"Only after we removed the mud did I realise the full extent of what I'd uncovered, and I was absolutely delighted."
Dr Andrew Birley, director of excavations and chief executive of the Vindolanda Trust, said a direct message from the past was always a great event but this one "really raised our eyebrows".
"It's author clearly had a big problem with Secundinus and was confident enough to announce their thoughts publicly on a stone," he added.
"I have no doubt that Secundinus would have been less than amused to see this when he was wandering around the site over 1,700 years ago".
Experts believe that each carefully carved letter, which would have taken a while to do, left "little doubt" to the depth of feeling held by the scribe.
A total of 13 phallus carvings have been found at the site, near Hexham, more than any other location along Hadrian's Wall, which stretches across the north of England from Wallsend on the River Tyne in the east to Bowness-on-Solway in the west.
Related Internet Links
The BBC is not responsible for the content of external sites.