Production of Wearside Micra ends in UK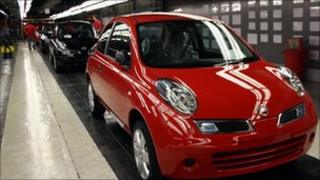 The last UK-built Micra car is due to roll off the production line.
After 18 years, 2.3m cars and one model change, production of the Nissan vehicle will end at the Wearside plant on Friday and switch to India.
In its place, workers will make the new Juke car, which will enter production on the former Micra line in mid-August.
More than £55m is being invested in the production of the new Juke at the site which employs 4,700 people.
The compact car will compete in the same market as the current Micra.
The first Sunderland-built Micra rolled off the line on 10 August 1992. A new model began production in 2002.
It will now be made at a factory in Chennai, India, in conjunction with partner Renault.
Kevin Fitzpatrick, vice president of Nissan Manufacturing UK, said: "I think everyone will be sorry to see the last Micra come off the line.
"When you produce a model for as long as we have produced Micra, it almost becomes part of your plant's identity.
"Micra's departure frees up capacity on our lines meaning we can now look forward to producing the Juke in August.
"Although Micra is a tough act to follow, Juke is a very exciting prospect."