Horse shot in head by air weapon in County Durham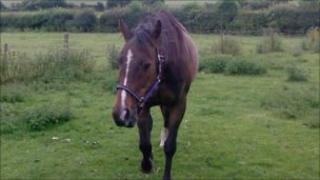 A horse owned by an RSPCA officer has been shot in the head with an air weapon in a County Durham field.
Mr Darcy, a 19-year-old bay, was found badly injured in a field between Shincliffe and Bowburn.
He is being treated by an equine specialist for a fractured skull, but it is not yet known if he will survive.
Owner, Rebecca Williams, said: "Even working at the RSPCA and seeing the things I see, I find it unbelievable that anyone could do such a thing."
Ms Williams, deputy manager of Felledge Animal Centre in Chester-le-Street, added: "Mr Darcy is such a friendly horse he's probably gone over to the person responsible to say hello.
"I'm absolutely devastated by what's happened."
RSPCA inspector Ruth Coxon said: "Whoever did this must have known there would be dire consequences for the horse.
"They have shot him in the forehead at very close range causing horrendous injuries from which it's not known whether he'll recover.
"The suffering caused to this friendly horse was deliberate and cruel, and I want to know who is responsible."