Durham University students offered Harry Potter course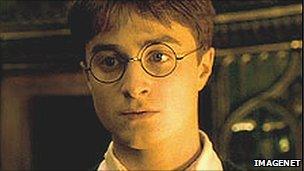 Students are being given the chance to sign up to what is thought to be the UK's first course focusing on the world of Harry Potter.
The Durham University module uses the works of JK Rowling to examine prejudice, citizenship and bullying in modern society.
So far about 80 undergraduates have signed up for the optional module, part of a BA degree in Education Studies.
Harry Potter and the Age of Illusion will open to students later this year.
A university spokesman said: "This module places the Harry Potter novels in their wider social and cultural context.
"A number of themes will be explored, including the world of rituals, prejudice and intolerance in the classroom, bullying, friendship and solidarity and the ideals of and good citizenship."
The module was created by Dr Martin Richardson, head of the Department of Education at Durham University.
He said the idea for the new module had been conceived in response to growing demand from the student body.
He said: "It seeks to place the series in its wider social and cultural context and will explore some fundamental issues such as the moral universe of the school.
"You just need to read the academic writing which started to emerge four or five years ago to see that Harry Potter is worthy of serious study."
Related Internet Links
The BBC is not responsible for the content of external sites.