Sunderland woman becomes first Avon millionaire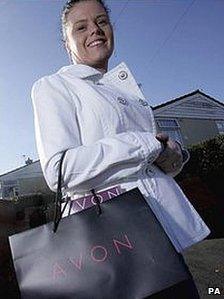 A Sunderland woman who faced an uncertain future when she lost her job six years ago has become Britain's first £1m Avon lady.
Debbie Davis, 31, who was struggling to pay her rent when she was made redundant from a printing firm, has now earned £1.4m with cosmetics firm Avon.
From being a sole seller she is now responsible for an 8,000-strong team.
She has also ditched her council house for a renovated luxury home and top-of-the-range sports car.
But despite living a millionaire's lifestyle, Miss Davis continues to sell Avon products door-to-door near her Wearside home.
After being unemployed for six months, she paid £15 to sign up as an Avon representative to help pay the bills.
She was amazed when she sold £18,800 of products in three weeks and decided to recruit her partner Dave Carter, 42, to help.
She has achieved a turnover of £9.3m since 2004.
Last year the couple were crowned the Avon's top earners for the fourth year running, having earned £300,000.
Miss Davis was given a Mercedes SLK and Mr Carter a BMW X3. They also won a holiday to Majorca.
Miss Davis said: "I never thought that at the age of 31, I would be able to say I am running a lucrative business with my partner.
"I have been able to travel the world from Monte Carlo to Barcelona, drive my dream car and purchase my very own home - a far cry from the council estate I was brought up on."
Related Internet Links
The BBC is not responsible for the content of external sites.