Parade marks Freedom of Sunderland for 3 Rifles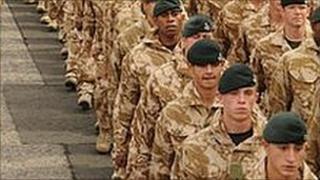 An army regiment which includes the former Durham Light Infantry is being given the Freedom of Sunderland.
Soldiers from the 3rd Battalion The Rifles will take part in a parade through the city on 10 September to mark the honour.
Their parade will culminate in a salute taken at the city's War Memorial.
Survivors of the 125th Anti-tank Regiment, who endured captivity in the Far East during World War II, will also be honoured on the same day.
The Rifles Regiment is the largest infantry regiment in the British Army and recruits from Sunderland and across the North East.
Sunderland Council leader Paul Watson said: "Sunderland has a long tradition of close links with the military.
'Community spirit'
"This honorary freedom is recognition of the regiment' s links to Sunderland in the past, the present and in the future.
"These links have contributed to the community spirit of Sunderland and it is only right that we honour the regiment with the Freedom of the City.
"Neither should we forget what members of the 125th went through as prisoners of war in the Far East."
The 150 soldiers from 3 Rifles will be supported by the Band and Bugles of The Rifles.
During its six-month tour of Afghanistan the 1,400-strong 3 Rifles battle-group lost 30 members, the biggest loss of life in a battle-group since the Korean War.