Durham's Lord Londonderry statue unveiled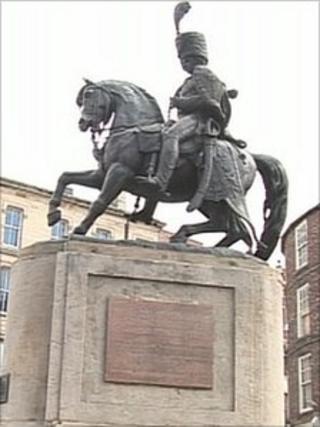 A 19th Century statue has been restored and unveiled in a new location in Durham city's market place despite objections from 6,000 people.
Work on the Lord Londonderry statue - which was first unveiled in 1861 - has been carried out as part of a £5m revamp of the area.
People in Durham have opposed the relocation of the statue by 62ft (19m) from its former site.
Durham County Council said it would create space for better seating.
Neil Foster, portfolio holder for economic regeneration, said: "We do acknowledge the strength of public opposition to the proposal for Lord Londonderry to be moved."
"The expert conservation work on this statue is absolutely fascinating and the results are breathtaking."
Rupert Harris, a consultant to English Heritage and an elected fellow of the Royal Society of Arts, was employed to undertake the restoration of the statue of the former Lord Lieutenant of Durham.
He said: "The restored sculpture has been repatinated to its original brown colour and treated with protective wax.
"With regular maintenance, there's no reason the statue shouldn't stand tall for generations to come."
The revamp of the cobbled square, which is part of the Durham City Vision Partnership, will feature upgrades to lighting and signs as well as shop-front improvements.