Appeal for Sunderland memorial achieves target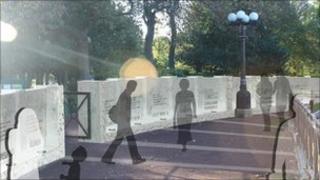 An appeal to create a permanent memorial to Wearside servicemen and women lost since World War II has reached its £100,000 target.
The Brothers in Arms appeal will fund a granite wall to surround the city's existing memorial in Burdon Road.
The wall will commemorate service personnel from the area who have died in battle or training.
The appeal was launched a year ago by five Wearside families, whose sons were killed in Iraq, Afghanistan and at sea.
A range of fundraising activities have been held over the past 12 months, including sponsored walks and runs.
'Fitting tribute'
A ceremony is due to take place on Wednesday at the memorial site, where Sunderland Council leader Paul Watson will congratulate the families.
Work on the memorial is due to begin after this year's Remembrance Sunday Service on 14 November.
The families involved are those of 18-year-old Pte Michael Tench, who died in Iraq in 2007; Royal Marine Tony Evans, 20, killed in Afghanistan in 2008; Pte Nathan Cuthbertson , 19, also killed in Afghanistan in 2008; submariner Anthony Huntrod, 20, who died in an explosion on board HMS Tireless in 2007; and Lance Corporal Tony Carr, 21, of the Coldstream Guards who died during exercises on Salisbury Plain in 2004.
Pte Cuthbertson's father Tom, who is chairman of Brothers in Arms, said: "We have the biggest war memorial outside of London, we have the biggest service outside of London so it would be a fitting tribute to recognise the people of the North.
"We need somewhere in the north of England where we can go to pay our respects."