Plan to expand Sunderland's Bridges shopping complex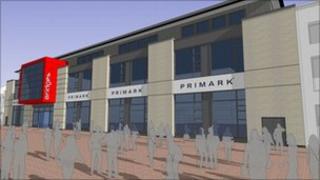 A £15m plan to expand Sunderland's largest shopping complex has been unveiled.
Land Securities, which owns the Bridges shopping centre, said the three-storey, 60,000 sq ft development would be home to discount clothing chain Primark.
The firm will relocate to the purpose-built extension from its existing store in the city's Fawcett Street.
Work on the scheme is due to start next year and will include a new entrance to the Bridges on High Street West.
Jonathan Buckle, portfolio manager for the Bridges, said: "This is a significant investment which demonstrates Land Securities' commitment and confidence in Sunderland.
"Our objective is to enhance the shopping experience we provide for the 21 million customers who visit the centre each year.
"Primark has outgrown its existing store and are very keen to remain in the city."