Three homes in Sunderland damaged in car crash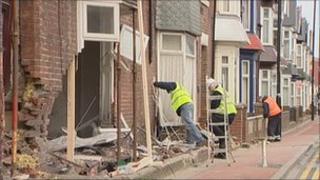 A 25-year-old man has been arrested on suspicion of drinking and driving after a car crashed into three houses in Sunderland.
Emergency services were called to Durham Road in the early hours of Sunday.
Firefighters cut free two men aged 22 and 19 from the wreckage. They were taken to hospital, where the 22 year-old is in a critical condition.
No-one else was seriously hurt and work is ongoing to repair damaged buildings.
One of the properties suffered extensive damage to a bay window.
Others suffered damage to windows and brickwork.