Durham University students begin Harry Potter course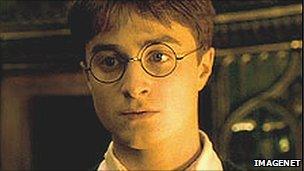 Students donned cloaks and carried broomsticks to attend what is thought to be the UK's first course focusing on the world of Harry Potter.
The Durham University module uses JK Rowling's novels to examine prejudice and citizenship in modern society.
About 70 undergraduates gathered in the university's Great Hall for the first of 22 lectures and 11 seminars.
The Harry Potter and the Age of Illusion module forms part of a BA degree in Education Studies.
The module was created by Dr Martin Richardson, head of the Department of Education at the university.
He said the idea for the new module had been conceived in response to growing demand from students.
A university spokesman said: "Having the first lecture in the Great Hall we feel is an inspiring and engaging way to introduce the students to the academic module, and to help fire and stimulate their imagination.
"It is, however, a one-off and subsequent lessons will be held in normal teaching rooms.
"Using some of the themes from Harry Potter such as prejudice, citizenship and belief, it is hoped students will learn important skills."
Durham Cathedral and castle were used as locations for the first two Harry Potter films.
Dr Richardson added: "It seeks to place the series in its wider social and cultural context and will explore some fundamental issues such as the moral universe of the school.
"You just need to read the academic writing which started to emerge four or five years ago to see that Harry Potter is worthy of serious study."
Related Internet Links
The BBC is not responsible for the content of external sites.