Bill Bryson to quit as Durham University chancellor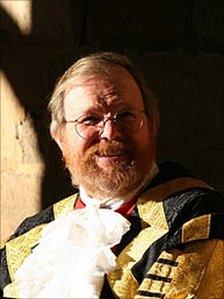 Author Bill Bryson is to step down from his role as chancellor of Durham University by the end of 2011.
The 58-year-old said he wanted to spend more time with his family and on developing writing projects.
American-born Mr Bryson is the university's 11th chancellor and took over from actor Peter Ustinov in 2005.
The university praised his efforts as a "wonderful ambassador for Durham" and added they fully understood the reasons behind his decision to step down.
University vice-chancellor Prof Chris Higgins said: "Bill has done far more than simply fulfil his ceremonial duties, he has giving his time, passion and inimitable talent to raise the university's national and international profile in so many ways.
"Bill has been a wonderful ambassador for Durham, engaging with decision-makers, businesses and of course with our staff, students and alumni.
"Sadly, following careful reflection, he feels he should step down from his role after almost seven years due to his increasing professional and personal commitments."
Mr Bryson said: "I will treasure forever the time that I have spent at Durham University and in this beautiful city.
"It has been just the greatest privilege and honour I have had in my life to serve as chancellor for such a remarkable community of students, staff and life-long university friends.
"I will miss Durham more than I can say."
The university has now begun the process to nominate a new chancellor.
Previous holders of the post have included ballerina Dame Margot Fonteyn and two former dukes of Northumberland.
Related Internet Links
The BBC is not responsible for the content of external sites.