County Durham advice firm in jobs cut warning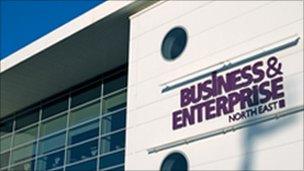 A County Durham business support service which depends on a number of public sector contracts has said it might have to axe 135 jobs.
Seaham-based Business and Enterprise North East (BE-NE) employs 416 staff and claims to have helped create or secure 15,000 jobs over three years.
It specialises in offering help and advice to new and established companies across the north-east of England.
The firm said it was pre-empting the effects of government budget cuts.
Alastair MacColl, chief executive of BE-NE, said: "As an independent company operating in an increasingly competitive market we have managed to build a broad portfolio since 2007, working on behalf of a range of organisations in the North East and now other parts of the UK.
"We know that some of those contacts will now be reduced in size, so like any other good private sector business we are acting promptly to anticipate those changes and ensure that our cost base is in line with our revenue estimates for next year.
"This kind of change is always difficult for all those involved and we will do everything possible to reduce the impact it has on a very talented and committed team."
The company has contracts with regional development agency One North East, which itself is facing the axe, as well as some government departments and local authorities.
Mr MacColl added: "We expect to see some profound changes in business support and enterprise over the course of the next 18 months.
"We are taking the opportunity to restructure our capacity to help us exploit the considerable opportunities that we think some of these changes will create."
Related Internet Links
The BBC is not responsible for the content of external sites.