Stowaways found in lorry bound for Sunderland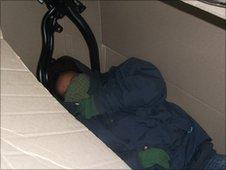 Three stowaways have been found hiding in a lorry carrying car parts to a business premises on Wearside.
The Romanian-registered vehicle was stopped by UK Border Agency officers in Calais. A sniffer dog found the three from Eritrea in north east Africa.
The lorry was allowed to carry on its journey to Burdon once the two women and a man were removed.
They were handed over to the French authorities. The driver must now prove he took steps to secure the lorry.
A spokesman for the Agency said: "Our officers use hi-tech search equipment and an array of search techniques to combat illegal immigration.
"These include body detection dogs, carbon dioxide detectors and heartbeat monitors as well as visual searches to find well-hidden stowaways."
Related Internet Links
The BBC is not responsible for the content of external sites.