Afghanistan bridge bomb killed County Durham soldier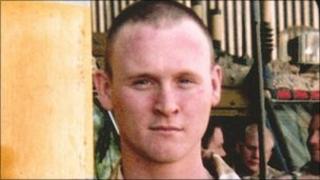 A County Durham soldier was blown up in Afghanistan by a bomb concealed under a bridge, an inquest has heard.
Serjeant Steven Campbell, of 3rd Battalion The Rifles, was delivering ammunition in Helmand on 22 March.
The 30-year-old, from Pelton, was crossing at a known vulnerable spot, and men with metal detectors had circled it to check for wires.
However, a command wire had been hidden under water and was used to detonate the improvised explosive device.
Sjt Campbell, who on a quad bike, pulling a trailer with ammunition bound for another base, suffered multiple and non-survivable injuries.
The inquest was told that patrols varied their routes and avoided tracks to make them less vulnerable to bombers, and thorough searches were made for explosive devices, but sometimes bridges were unavoidable.
'Truly an honour'
Capt David Hirst, a Royal Engineer, agreed when Coroner Andrew Tweddle said: "In your opinion, everything that could and should have been done on that occasion was done."
Mr Tweddle ruled that Sjt Campbell was unlawfully killed while on active service.
He then read part of the tribute by the battalion's commanding officer, who said: "Serjeant Steve Campbell was one of the Army's rarest treasures.
"So positive and energetic, it was truly an honour and a pleasure to know him and to have him with this Battle Group."
The 3rd Battalion The Rifles retains the archaic spelling of serjeant and therefore BBC News uses this spelling in stories reporting deaths from this battalion.