Schools and airport hit by snow across Wear area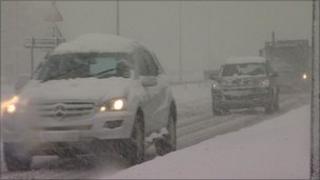 Dozens of schools are still closed across County Durham and Wearside after fresh snow fell overnight.
There was more snowfall but it was not as heavy as previous nights. However more showers are forecast for later.
Durham Tees Valley Airport also remains closed despite a major operation on Wednesday and overnight to clear the snow.
The A66 at Bowes, County Durham, is closed for a further day because of the treacherous conditions.
Passengers planning to travel from the airport are advised to check with their airline.
There was also disruption to train services with a revised timetable being operated on the East Coast Mainline.