Moves to prevent lake deer deaths in County Durham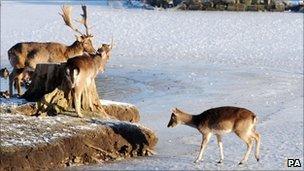 The RSPCA has been attempting to stop deer from venturing on to a frozen lake following a number of deaths.
Staff at Whitworth Hall Country Park, near Spennymoor, County Durham, have been breaking the ice, but temperatures are so low it is quickly re-freezing.
About eight deer and stags have drowned so far and conditions mean their bodies cannot be removed.
A fence has been ruled out, so food is being left at a distance to lure them away from the lake.
Leanne Plumtree, of the RSPCA, said an inspector had visited and help was being sought from wildlife and farmed-deer experts.
She said: "The advice so far is for them to provide plenty of food, water and shelter away from the lake in an effort to dissuade the deer from going near it.
"We believe putting up an electric or other fence isn't practical, or perhaps even possible, in the current conditions and could create more welfare problems as, unless it was very high, the deer may try to jump it and could become caught."
Related Internet Links
The BBC is not responsible for the content of external sites.